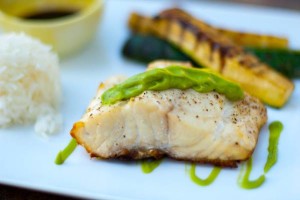 There are few items as healthy or as delicious to grill than fish.  We are fortunate enough to live in Florida where we have access to some of the freshest seafood in the country, so fish is one of our favorite meats to grill. These days you can get fresh seafood just about anywhere in the States, so we encourage you to seek out seafood and explore its grilling potential!  Fish also just happens to be one of the easiest and quickest meats to cook on the grill.
We'll first teach you how to best handle your fish before you begin grilling. Fish grills pretty quickly and the nice thing about grilling fish fillets is that you can watch them progress through the cooking process. Our grilled fish and seafood recipes visually walk you through the fish as it cooks. By the end, the meat should flake away easily and the middle should be opaque and ready to enjoy.
So go ahead, pick up some fresh fish fillets and try one of our delicious grilled fish recipes. We have recipes for mild, white fish fillets, as well as the popular cedar plank salmon. Whether you are marinating fish or making quick fish tacos, check out our tips and recipes to make grilled fish night delicious.
Looking for shrimp recipes?  Or perhaps just lobster recipes?
View All Fish & Seafood Recipes
---
Featured Recipes