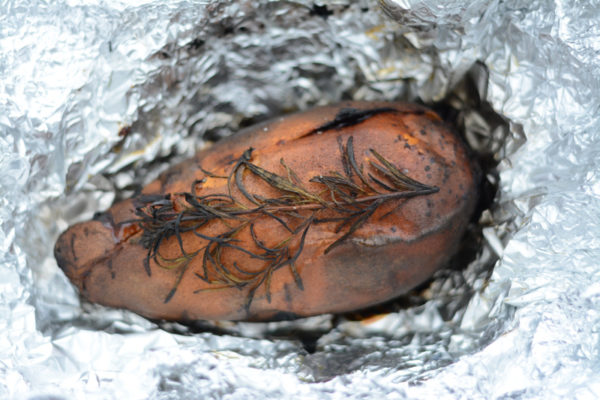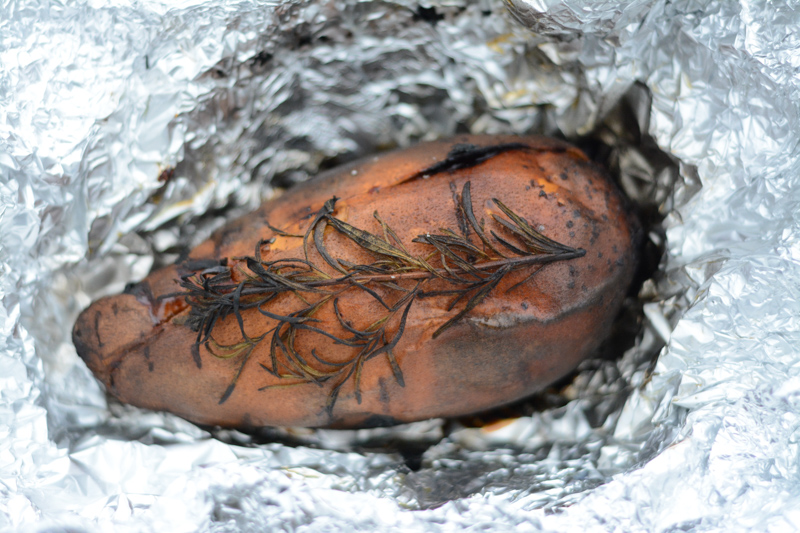 Roasted sweet potatoes go great with most meals and are really easy to cook over your charcoal while grilling the rest of the meal. Simply wrap them in foil and let them hang out down there while your coals get hot and continue to roast the sweet potatoes while you grill your meal! The high heat will partially burn the skin and impart a great roasted flavor to the sweet potatoes that is hard to duplicate in an oven. Quick side note. There is a sprig of rosemary pictured. Although it looks nice, that was a failed experiment, none of the rosemary flavor made it through so just act like it isn't there.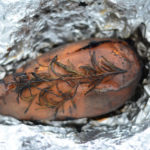 Print Recipe
Coal Roasted Sweet Potatoes
Sweet potatoes roasted directly on hot coals
Ingredients
large sweet potatoes

aluminum foil

butter

olive oil
Instructions
Light your charcoal pile and let the coals burn down while you prepare the potatoes.

Wash and dry the sweet potatoes and then cut them lengthwise about 3/4 of the way through. Don't cut them in half, we are just trying to let them open naturally as they cook and cook through a little quicker.

Rip off two identical pieces of aluminum foil.

Place one sweet potato in each of the double aluminum foil packs, sprinkle with some olive oil and then wrap them in the foil tightly, completely sealing in the potatoes.

Using tongs, carefully nestle (I guess that's the word) each sweet potato on top of the hot coals. Use the tongs to move a few coals to partially cover the potatoes.

Roast the sweet potatoes on the grill for an hour. I like to stick them on while the grill is getting hot and while I prepare the meat for the grill. Grill the meat on the grate while the sweet potatoes hang out and roast underneath. You know, two birds and all.

After an hour, carefully remove the sweet potato pouches from the grill and set aside to let them cool off enough to handle.

Carefully unwrap the roasted sweet potatoes and serve.