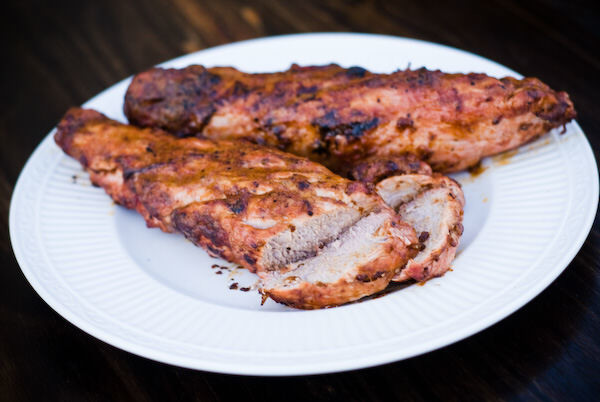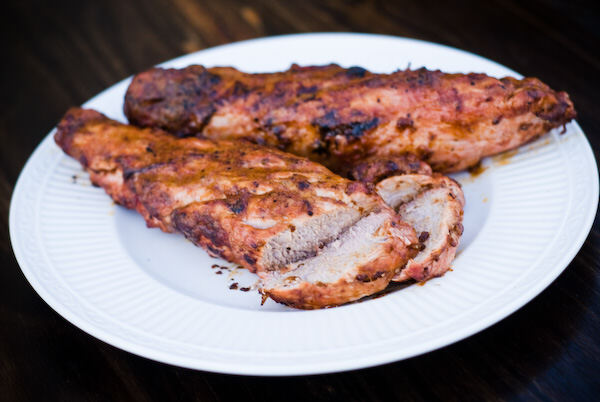 Stubb's Bar-B-Q sauce company sent me a prototype bottle of their new gluten free moppin' sauce. I felt like I had stolen this unmarked bottle straight from their labs. The only thing distinguishing it as a Stubbs product was the cap. No labels, no marketing, just anticipation for trying a free bottle of not-yet-released deliciousness. What makes it gluten free? Stubb's replaced the corn syrup with a more healthy sweetener in their new mopping sauce. This new sauce has the same tangy goodness of the original moppin' sauce, so I think they have another winner and folks with Celiacs can enjoy it without worrying about the after-effects.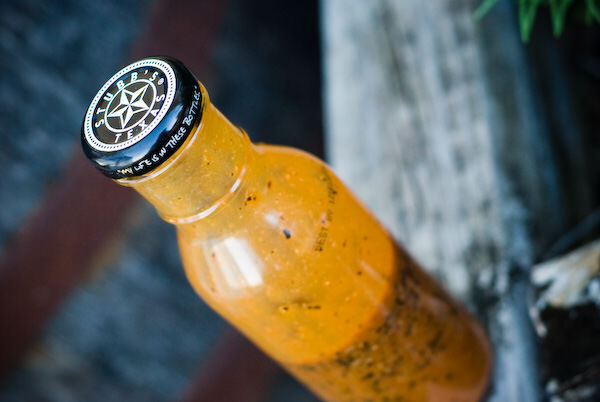 I just happened to pick up a pork tenderloin on sale that day so I had the perfect vessel to carry that awesome sauce into my belly. Pork tenderloin is a great meat for grilling. It's very lean and cooks pretty quickly for a thicker cut of meat. Because it is so lean, it requires a little care and attention to ensure it doesn't get too dried out on the grill. Searing the pork tenderloin and basting it with a nice sauce are great techniques to produce a nice and juicy tenderloin.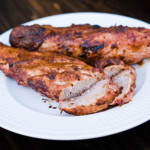 Print Recipe
Grilled Pork Tenderloin with Stubbs Mopping Sauce
Stubbs Mopping Sauce mopped all over a pork tenderloin on the grill. The mopping sauce keeps it moist and add a ton of flavor.
Ingredients
2

Pork tenderloins

1 package of 2

Kosher salt

6

ounces

Stubbs Moppin' Sauce

about 1/2 a bottle
Instructions
Prepare the grill for indirect grilling.  If using a gas grill, light on side of burners and leave the other half unlit.  If using a charcoal grill, pile all of the coals to one side of the grill.  A drip pan under the cool side of the grill is a good idea, unless you like to clean your grill often.

Since this Stubbs sauce has a lot of black pepper, all we need is a little Kosher salt to begin.  Sprinkle both sides of the pork tenderloin with salt.

Once the grill is hot, sear the tenderloin on all sides to product a nice crust.

Move the tenderloin over to the cool side of the grill and baste all sides with the moppin' sauce.

Close the lid and grill the pork tenderloin until done (around 145 at the center of the tenderloin), basting every 15 minutes or so with the mopping sauce.
Nutrition