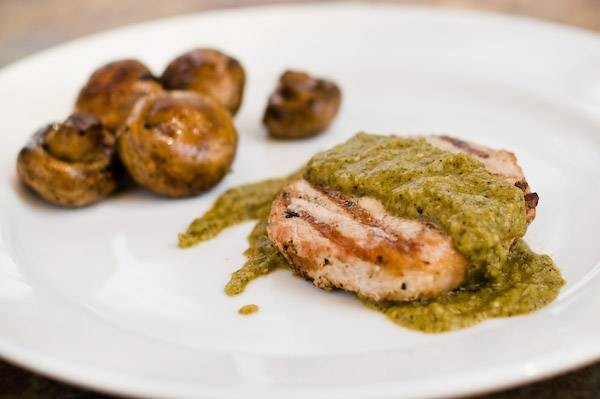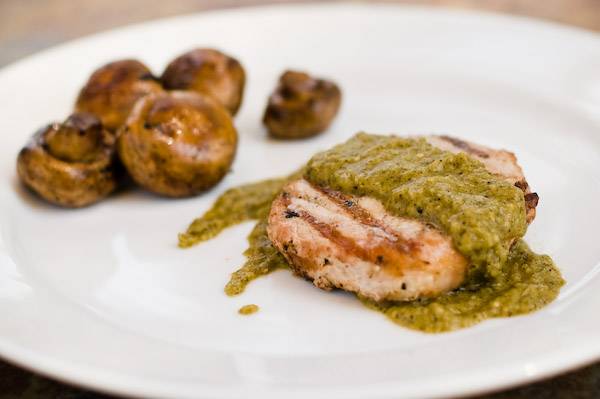 Man cannot live by pork chop alone.  Every now and then you must sauce it up a bit.  This smoky green sauce blends great with a pork chop.  The combination of roasted poblano peppers, tomatillos and garlic make a savory sauce.  This might also make a great base for a roasted corn and black bean salsa, which I might have to try some day soon.  I'll let you know when I do.
It's best to cook this recipe on a charcoal grill, so that the smoky flavor gets infused into the peppers and tomatillos.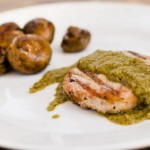 Print Recipe
Boneless Pork Chop with Tomatillo and Poblano Pepper Sauce
Roasted tomatillos and poblano peppers make the base for this sauce to drizzle over or smother your grilled pork chop.
Ingredients
10 to 12

tomatillos

2

poblano peppers

2

cloves of garlic

1/8

teaspoon

salt

1/8

teaspoon

pepper

1

medium onion

2

tablespoons

olive oil

2

boneless pork chops
Instructions
Peel outer husks (paper like wrapper) off of the tomatillos and wash them.  Slice into quarters.

Slice onion into quarters.

Remove the stem from the peppers.   Slice in half such that the halves are as flat as possible. Remove the seeds.

Add peppers, sliced tomatillos, onion and garlic cloves to a bowl, drizzle with oil and stir to cover.

Grill the peppers over direct heat, making sure the skin side is charred.  This will allow the skins to be easily peeled.  Roast for 4 to 6 minutes on each side.

Either skewer the tomatillos, onions and garlic on skewers, or use a basket (I recommend the

Weber grilling basket

).  Cook them over direct heat for 7 to 15 minutes, occasionally stirring or turning, until the tomatillos and onions are tender and slightly charred.  Remove them from the heat and let cool.

After peppers have cooled, peel the charred skin from the peppers.  This skin is almost plastic-like and isn't too appealing (ha!) to have in your sauce.

Add tomatillos, onions, garlic and peppers to a blender and blend until smooth.  Salt and pepper to taste.  Optionally you can add a bit of quality olive oil while blending to smooth out the mixture as well, about a teaspoon will work.

Salt and pepper the chops and grill over direct medium high heat for 4 to 6 minutes per side.

Remove chops from grill, slather in the sauce and enjoy!