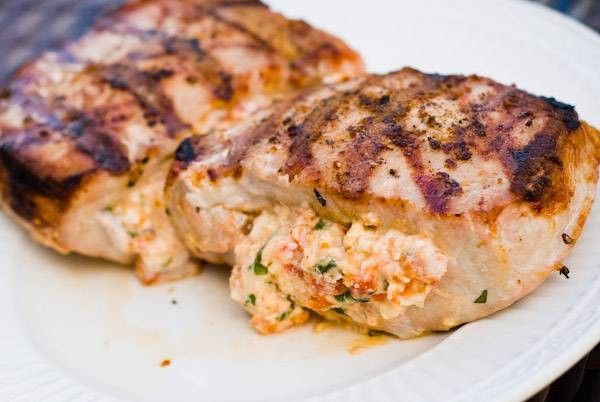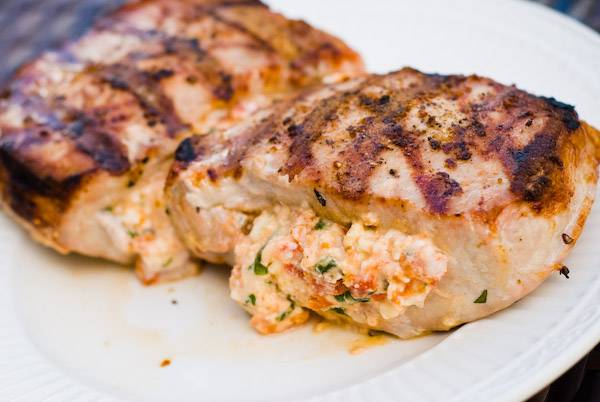 The desire to stuff meat comes in a pretty close second place to my manly desire to cook said meat over an open flame. What's better than cutting into a nice, juicy piece of meat and have a gooey, cheesy mixture ooze out? Nothing, that's what! This stuffing mixture was inspired by my love for all things Greek, especially feta. It was also inspired by a desire to find another use for all of the basil growing in my garden. I'm pretty sure I will use this stuffing again in a recipe, so make sure you act surprised if it crops up inside another protein on our site, ok?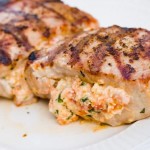 Print Recipe
Stuffed Greek Pork Chops
Pork chops stuffed with feta cheese, sundried tomatoes, and basil, then grilled to perfection.
Ingredients
2

boneless pork chops

thicker cut, 1 to 1 1/2 inch

1 1/2

tablespoons

fresh basil

1

tablespoons

chopped sun dried tomatoes

1/4

cup

feta cheese, crumbled

1

tablespoons

cream cheese

Kosher salt

fresh ground black pepper
Instructions
Preheat your grill for direct grilling over medium-high heat.

Follow the directions on the sun dried tomato package.  Most require soaking in hot water to rehydrate, others come in oil or liquid and rehydrating is not required.  If you skip this step, just come back later and remind yourself that I warned you...

Combine the feta, basil, cream cheese and sun dried tomatoes thoroughly in a bowl.

Form a pocket in each pork chop by slicing almost all of the way through.

Now it is time to get your hands dirty.   Stuff half of the greek stuffing mixture into each pork chop cavity and then squeeze the opening shut and secure with a toothpick or two.  You can skip the toothpicks if you don't have any, but just be careful when turning the pork chops so you don't squeeze out the cheese stuffing.

Rub the outsides of the pork chops with some Olive oil and then coat with a sprinkling of Kosher salt and fresh ground black pepper.

Grill the stuffed pork chops for about 6 minutes per side with the lid closed, or until the pork chops are cooked all of the way through (145 degrees if you are using an instant read thermometer).

Let the grilled pork chops sit for about 5 minutes before cutting into them.
Nutrition
Calories:
578
kcal
|
Carbohydrates:
5
g
|
Protein:
65
g
|
Fat:
32
g
|
Saturated Fat:
15
g
|
Cholesterol:
229
mg
|
Sodium:
645
mg
|
Potassium:
1171
mg
|
Fiber:
1
g
|
Sugar:
4
g
|
Vitamin A:
511
IU
|
Vitamin C:
2
mg
|
Calcium:
218
mg
|
Iron:
2
mg