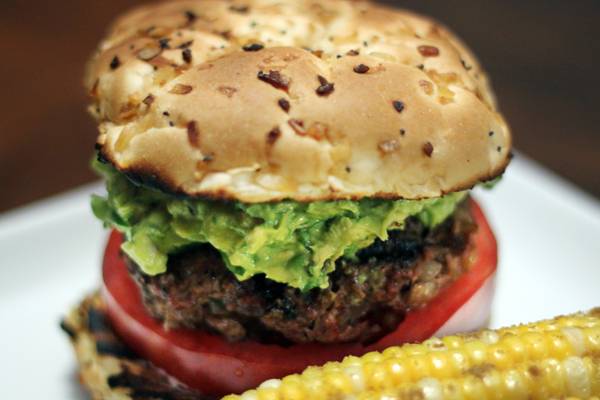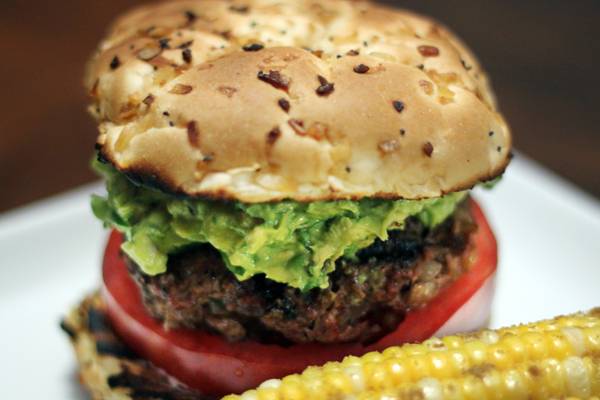 Tex Mex Burgers with Guacamole
March 18, 2011
My favorite ethnic food by far, is Mexican. The cheese, the jalapenos, the mariachis... its pretty amazing. So, of course, the idea of a burger inspired by some of my fav Mexican flavors sounded like a great match. The guacamole added to the burger gives it a clean, fresh taste and is a perfect balance to the spiciness and heat of the burger.
Ingredients
Burgers:
1 4 oz. can green chiles (hot or mild - whatever you can handle)
1/2 cup pepper jack cheese (shredded)
Guacamole:
Directions
1To prepare guacamole:
2Dice avocado and add to mixing bowl
3Add jalapeno, cilantro and red onion
4Mash together to desired texture
5Mix in lime juice
6Add salt & pepper to taste
Making the Burgers:
1Heat chopped sweet onion in a pan until tender and set aside to cool
2Shred monteray jack cheese & drain green chiles
3Add cheese, chiles, onion and spices to ground beef and mix gentlly
4Form ground beef mixture into 4 patties
5Lighlty brush burgers with olive oil
6Grill burgers over medium high heat for 8-10 minutes turning once
7Lightly toast buns if desired (roughly 1 minute)
8Assemble burgers with mayonnaise on bottom, followed by a slice of tomato, the burger and top with guacamole
These burgers go great with a side of grilled corn. Check out our recipe on grilling corn to get the low down. If you want to spice things up use some chili powder and lime instead of salt.
0 Reviews