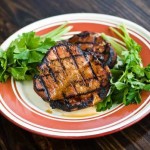 Print Recipe
Coffee and Molasses, Weird Combination, Delicious Marinade
Coffee and molasses?  Yeah, sounds weird, right?  I made some
coffee rubbed pork chops
a while back and those turned out amazing, so the next logical step was to soak some meat in some very strong coffee. 
Alton Brown
is one of my culinary heroes.  My wife would call it an unhealthy obsession but really, what food geek doesn't like how Alton breaks stuff down to the molecular level to explain food science?   This particular marinade is a variation of one he has done on a show.  I modified mine a little based on what I normally have on hand, but coffee and molasses are definitely the main influences here.
Ingredients
4 pork chops (I prefer bone-in, but the above photo shows I buy whatever is on sale)

1 cup Espresso (brewed and then cooled or it will cook the meat)

1/2 cup dark molasses

2 cloves mined garlic

1 teaspoon Kosher Salt

1 teaspoon dried Thyme

2 tablespoons apple cider vinegar
Instructions
Mix all marinade ingredients well and pour into a resealable bag with the pork chops.  Marinade in the refrigerator for at least 3 hours, overnight is just fine if you think that far ahead.

Light the grill and prepare for direct

grilling

over high heat.  For pork chops thicker than 1 inch, you'll need to move them over to the cooler side of the grill to finish cooking after you sear the outside.

Remove the pork chops from the marinade and allow to rest on the counter at room temperature for about 30 minutes if you can. As you know by now, we want to warm our meat a little to ensure it cooks through evenly!

Put the pork chops on the grill and cook over direct, high heat for about 5 minutes per side or until done.  Again, if the pork chops are thicker than 1 inch, move to the cooler side of the grill and close the lid to allow them to cook all the way through.

Allow the pork chops to rest on a platter for about 8 minutes before serving.
Nutrition