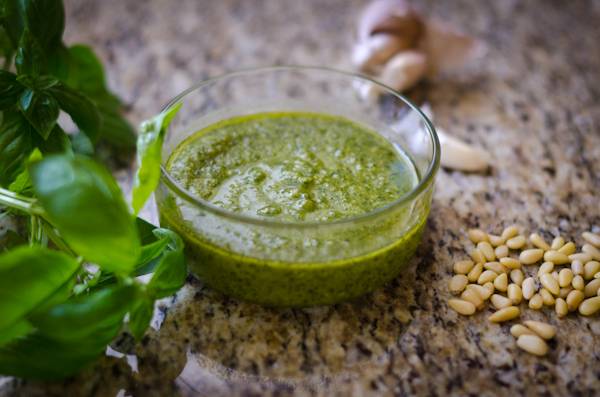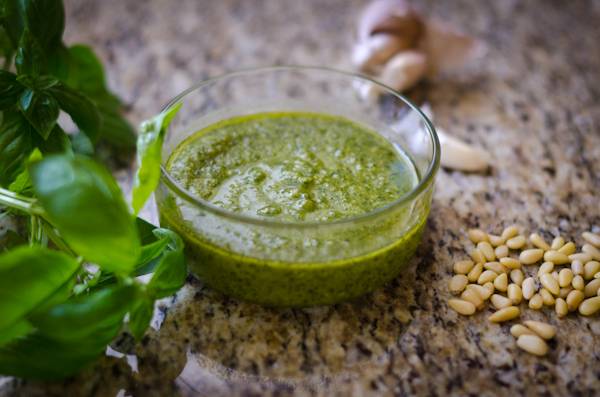 Pesto sauce recipe
September 23, 2012
I use pesto sauce in a lot of grilling recipes, so I figured I'd share how I make it.  This is a slight variant on the pesto sauce from Joy of Cooking cook book.  I changed out the choice of cheese and recommend you use toasted pine nuts. Toasting the pine nuts gives an extra nutty flavor.
Prep: 10 mins
Cook: 5 mins
Yields: About 1 Cup
Directions
1Add the basil leaves, the garlic and the cheese to a food processor with the chopping blade.  Chop for 15 seconds until all the ingredients are finely chopped.
2Toast the pine nuts in a dry frying pan over medium heat.  Shake the pan (like you are flipping an omelet) every few minutes or stir to ensure all sides get browned.  You want to cook them until they are a nice golden brown.
3While the pine nuts are still hot, add them to the food processor and chop for another 10 to 20 seconds.
4While the food processor is running, slowly add the olive oil. Blend until fully mixed.
5Add salt and pepper to taste.
0 Reviews