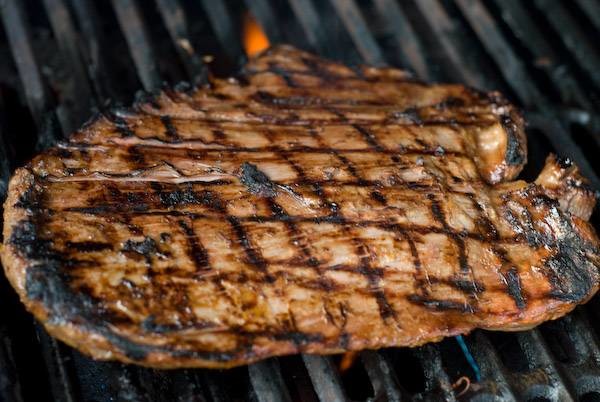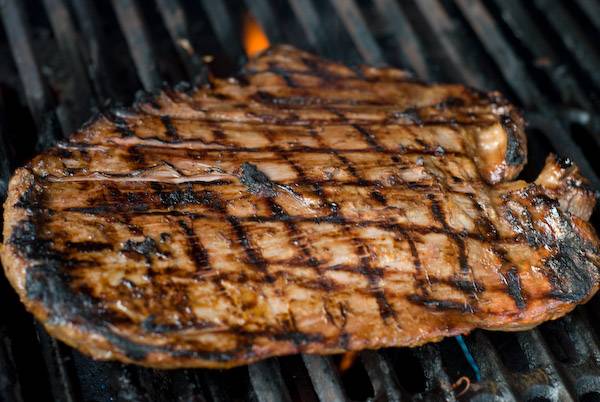 Flank steak soaks up marinades at about the same rate I devour a plate full of red curry chicken at the Thai restaurant.  Flank steak's love for marinades allows me to throw together a quick marinade, give it a good soak and have a great meal in less than an hour and a half…a weekday Griller's dream!  I like to throw together a quick Thai noodle bowl to serve with this steak, I'll throw in that easy recipe after we talk beef.  Let's get to it.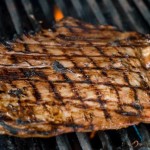 Print Recipe
Thai Marinated Flank Steak
A fast thai marinade for flank steak on the grill.
Ingredients
1.5

pound

flank steak

2

tablespoons

soy sauce

2

tablespoons

Thai fish sauce

2

tablespoons

honey

1

inch

piece of fresh Ginger

1/2

lime zest and juice
Instructions
Peel the ginger by scraping off the thin skin with the edge of a spoon.

Grate the ginger into a fine, almost paste consistency using a micro-grater (or zester).

Mix together the ginger, soy, fish sauce, honey and lime juice and zest.

Place the flank steak in a shallow dish and pour in the marinade, turning the steak to coat.

Marinate the steak at room temperature for about 45 minutes, turning the steak a few times throughout.

While the flank steak marinates, preheat the grill to high.

After 45 minutes, remove the steak from the marinade and place on the hot grill.

Grill the marinated flank steak for about 6 or 7 minutes per side over direct heat.

Remove the grilled flank steak from the grill and let rest on a platter for about 5 minutes.
What?  This delicious grilled marinated flank steak isn't enough for your dinner?  Ok, let's throw together a quick noodle bowl to keep it company.  Bonus recipe!
Thinly slice two larger shallots.

Saute' the shallots in about a tablespoon of sesame oil until translucent.

Add a teaspoon and a half of green curry paste and a tablespoon of minced ginger and cook for about 2 more minutes.

Stir in 2 cups of beef broth and about a tabelspoon of Thai fish sauce and simmer for a few minutes.

Serve in a bowl with the grilled flank steak (maybe some grilled red peppers) and some cooked spaghetti (or Chinese style egg noodles).  Thai-riffic!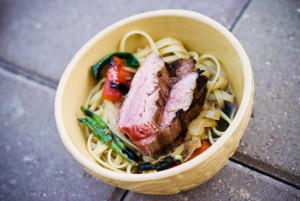 Nutrition