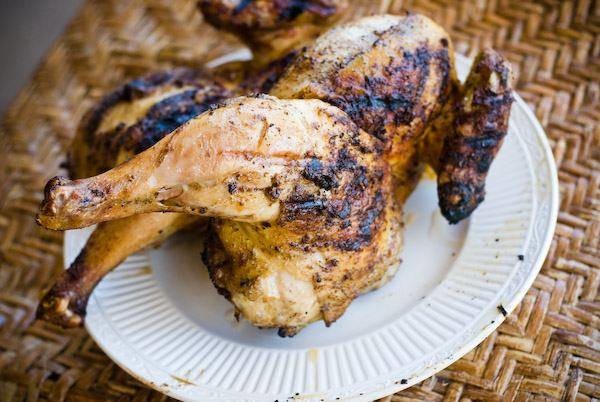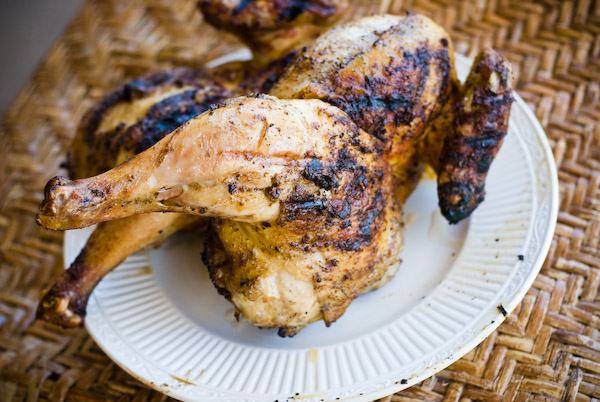 There are so many great uses for beer.  It's great when it it is hot or even when it's not.  You can drink it on the coast or wherever you like it the most.  You can drink it here, you can drink it there, you can drink it (almost) anywhere!  Uh, sorry, my son is on a Seuss kick.  More importantly for grill recipes, you can soak meat in it!  This beer brined chicken produces a really great tasting, juicy and tender grilled chicken.  The chicken really doesn't need much else after the brine soaking, but I'll include a simple rub to make it look pretty and give it a little more barbecue taste.  If you don't have all of the rub ingredients, just hit her with a healthy amount of fresh ground pepper and leave it at that.  The brine is the star of the show here.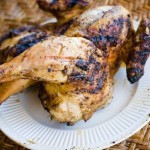 Print Recipe
Beer Brined and Grilled Chicken
Beer brined chicken produces a really great tasting, juicy and tender
grilled chicken
.  We include a simple rub to give it a little more barbecue taste.
Ingredients
1

whole roasting chicken

2

cups

water

1/4

cup

Kosher salt

1/4

cup

brown sugar

packed

2

12 ounce Lager beers

3

teaspoons

paprika

1/2

teaspoon

celery salt

1/4

teaspoon

black pepper

ground

1/4

teaspoon

ground cumin

1/2

teaspoon

onion powder
Instructions
Mix together the water, Kosher salt and brown sugar in a small sauce pan and heat on the stove until just before boiling.

Remove from the heat and stir to dissolve the salt and sugar.

Stir in the two beers and allow the brine mixture to cool to room temperature.

Remove the bag of nasty gizzards and what-not from the cavity of the whole chicken and then rinse with cold water.

Place the whole chicken in a sealable bag and pour in the brine.

Place the bag o' chicken and beer brine in a bowl large enough to catch any leaks (trust me on this one, my wife still won't let me live that one down...) and then place in the refrigerator.

Allow the chicken to soak in the brine for 12 hours.

Remove the chicken from the brine and rinse thoroughly with cold water.  I know it's tempting, but don't try to salvage that beer, that's just nasty.

At this point, I like to butterfly the chicken so that it cooks faster.  Don't know how to do that?  Check out

these instructions

.  It's easy and I even saw it as a challenge on one of those Food Network Challenge things, so if that ever comes up in your life, you're welcome...

Preheat the grill, keep one side at low and the other at medium.

Combine the paprika, cumin, pepper, celery salt and onion powder in a small bowl.

Pat dry the chicken and then rub with the paprika rub.

Grill the chicken skin side down for about 10 minutes with the lid closed, moving it around if the fat produces flare-ups.

Flip the chicken over and continue to grill until a thermometer in the breast meat reads around 160 degrees, 170 in the thigh.  It should take around 30 - 45 minutes, but rely on the temperature and not the time.  Move the chicken over to the lower heat side if the skin gets a little too browned or burned.  You can always peel that skin off, so don't sweat it if you burn a litte.

Remove the beer brined chicken from the grill and allow to rest for 10 minutes before serving.

Enjoy with the rest of that beer you purchased!
Nutrition