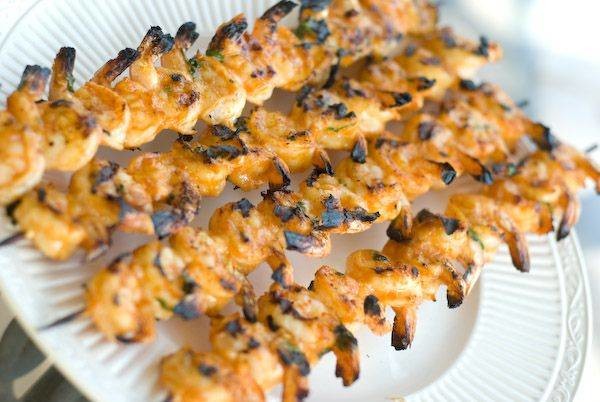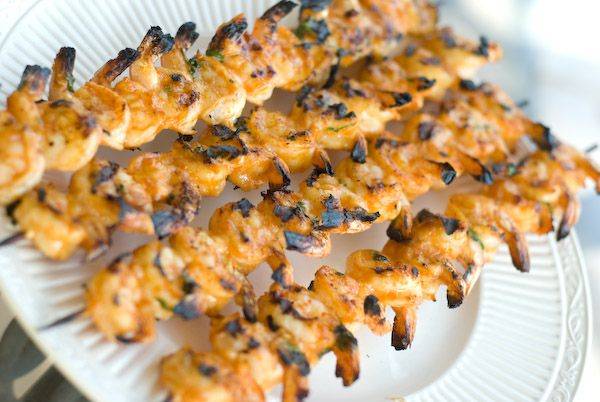 So I have to start this week's recipe with a little rant. How can it be that a person living in Florida can buy shrimp that was raised on a farm overseas and then shipped here cheaper than shrimp caught about 30 miles away? No wonder these folks can't make a living shrimping anymore! So please spend the few extra quarters a pound and buy shrimp caught off the coast of the United States. They taste better too!
Ok, sorry, let's get back to grilling some freakin' awesome spicy Thai grilled shrimp.  There is a long-standing debate as to whether or not to devein shrimp.  Some people say "no big deal, once they are cooked there's not much danger from the waste contained in the vein".  Make no mistake about it, that "vein" contains whatever Mr. Shrimp was dining on right before the net came down around their world.  Thanks, but I think I'll remove it and to do so is easy.  Remove the shell of the shrimp and then slice it along the back about halfway through and then pick out the vein.  It may take a few practice runs, but you'll be a pro after about a pound of shrimp.  The added benefit to removing the vein is that marinades have a better time penetrating the meat.  Bonus!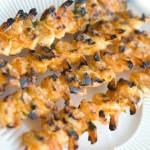 Print Recipe
Spicy Thai Grilled Shrimp
Spicy Thai Shrimp on the grill. Fire up the grill and bring the heat!
Ingredients
1

pound

Gulf shrimp

Peeled and deveined

1/3

cup

Sriracha Thai hot sauce

2

teaspoons

Worcestershire sauce

1/3

cup

olive oil

1

clove garlic

minced

1

handful

cilantro

chopped

1

teaspoon

sugar
Instructions
Mix the hot sauce, Worcestershire, oil, cilantro, sugar and garlic in a glass bowl large enough to hold the shrimp.

Add the shrimp to the bowl and place in the refrigerator.

Allow the shrimp to marinate for 1 - 2 hours.  The longer the time, the spicier the shrimp, but don't go past 2 hours.

Preheat the grill to medium-high.

While the grill heats up, skewer the marinated shrimp.

Grill the marinated shrimp skewers for about 3 minutes per side.  Be careful not to over-cook the shrimp, they are done once they turn opaque.
Love shrimp on the grill? Check out some of these other grilled shrimp recipes.