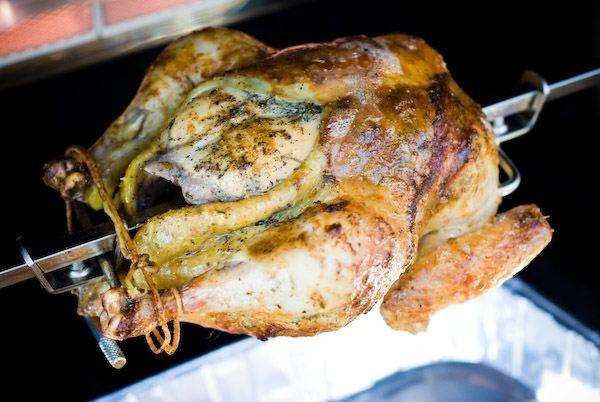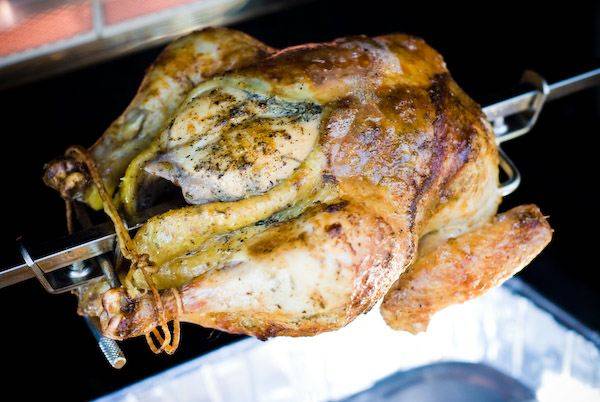 I'm pretty fired up this week! I got a brand new gas grill with all of the bells and whistles, including a really cool built-in rotisserie system that tucks away when not in use. I can already see a lot of meat spinning on this bad boy in the next few months! Right after I got her all set up (yes, it is a she), I ran out to the grocery store and bought a whole chicken to break in the rotisserie. I love this simple herb butter mixture for roasted chicken and it made an amazing rotisserie chicken. Don't even try to resist eating some of that crispy, golden brown, buttery skin. All in moderation, right?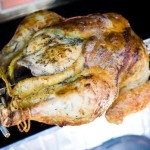 Print Recipe
Rotisserie Herbed Chicken
Simple herb butter mixture for roasted chicken makes an amazing rotisserie chicken with crispy, golden brown, buttery skin.  
Ingredients
1

whole chicken

2

tablespoons

butter

1/2

teaspoon

fennel seeds

1/2

teaspoon

rosemary leaves

1/2

teaspoon

dried thyme

1/2

teaspoon

Kosher salt

1/4

teaspoon

black pepper
Instructions
Combine the herbs, Kosher salt and pepper in a coffee grinder (obviously one that has been cleaned of all coffee) or food processor and grind into a fine mince.

Soften the butter slightly in the microwave or allow to soften on the counter (if you have the patience).  We are talking softened here, not melted.  We need the butter to stick to the chicken, not immediately drip off the carcass.

Combine the herbs and butter in a small bowl.

Rinse the whole chicken with cold water and make sure you remove all of the nasty bits from inside the cavity and then pat the chicken dry with paper towels.

Carefully separate the skin from the breast meat using your fingers and tuck some of the herbed butter mixture up under the skin of the chicken.

Rub the remaining herbed butter concoction all over the outside of the chicken.

Secure the chicken to the rotisserie, following the instructions of your model.

Use a piece of cooking twine to secure the chicken legs together and to the rotisserie, to keep your chicken from kicking your pan over or losing a limb during rotation.

Place a pan of water underneath the chicken to catch the drippings and to provide steam during the cooking process.

Light your burners to medium-high heat (per your rotisserie's instructions) and cook with the lid closed until a thermometer inserted into the breast meat reads 160 degrees.  It will take about an hour and a half for a 4 pound whole chicken.

Carefully remove the chicken from the rotisserie and either carve or eat it whole with your hands like a Caveman (or Woman)!  Don't forget that yummy skin.