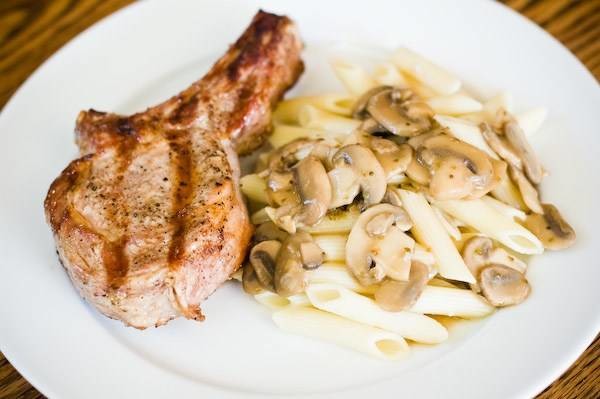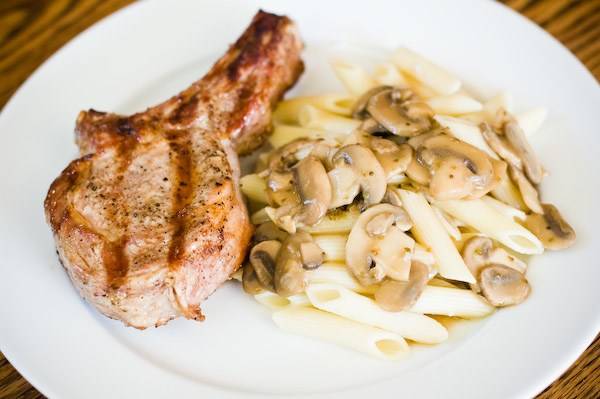 If you haven't eaten veal, you haven't lived. This is one of the best meals I've cooked on the grill in…well, honestly, ever. The veal chop in this recipe is incredibly tender and flavorful and juicy and … I'm running out of adjectives, but you get the idea. It's really good. And the best thing about it, this is sooo simple to cook.
I added a side of mushroom Marsala over penne pasta.  It seemed appropriate since veal is often served as veal Marsala.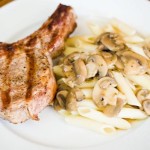 Print Recipe
Veal Chop Recipe
Grilled veal chop with side of Marsala sauce over penne pasta.
Ingredients
2

Veal chops

about 1 to 1 1/2 inch thick

1

tablespoon

olive oil

1

teaspoon

coarse (Kosher) salt

fresh ground pepper

a few grinds
For the mushroom Marsala over Penne:
8

ounces

white button mushrooms

1/4

cup

Marsala wine

1/4

teaspoon

marjoram

1

tablespoon

flour

1

cup

chicken stock

2

cups

penne pasta

prepare according to box instructions

2

tablespoons

butter
Instructions
Preheat the grill on high, or build a good hot zone if you are using charcoal (which I recommend for extra flavor).

Take the veal chops out of the fridge and let them come up to room temperature, about 20 minutes should do it.  I trimmed any excess fat off to avoid any flare-ups.

Brush both sides of  the chops with olive oil.  Evenly sprinkle the salt over the veal chops.  To do this, get a healthy pinch and hold it about a foot above and sprinkle.  Don't be shy with the salt.  A few grinds of pepper on both sides, and we're ready for the grill.

This is a high direct heat, with open lid situation.

During cooking, just leave the chop alone.  Have a beer, glass of wine or a lemonade if that is more you speed.  Just don't fiddle with the chop. Let it cook.

Cook for about 6 minutes. Then turn over and cook for another 6 minutes.
For the mushroom Marsala over penne:
Slice the mushrooms and sauté in butter over low heat until mushrooms are tender.  Remove the mushrooms, but leave the juices and remaining butter in the sauté pan.

Add the marjoram, the Marsala wine and half of the chicken stock.  Bring to a simmer.

Mix the flour with the remaining chicken stock. I use a plastic kids cup with a lid, shaking until the lumps are gone and the flour is mixed.  While stirring, slowly pour the stock and flour mixture into the sauté pan until the sauce thickens (not too much!) to your desired thickness.  If it gets too thick, add a bit more wine or chicken stock.

Re-add the mushrooms.  Let it simmer while stirring for about a minute.

Remove from heat and spoon over penne pasta.

Serve alongside your delicious grilled veal chop.