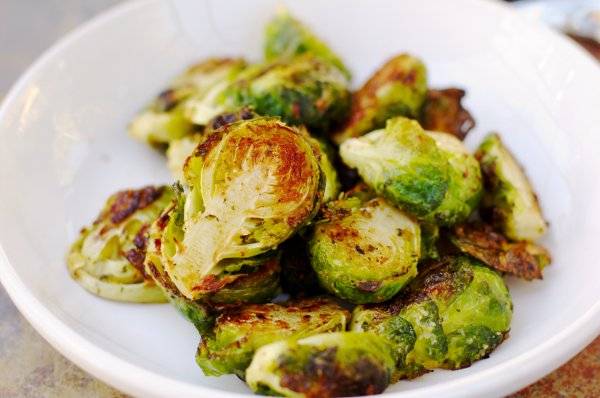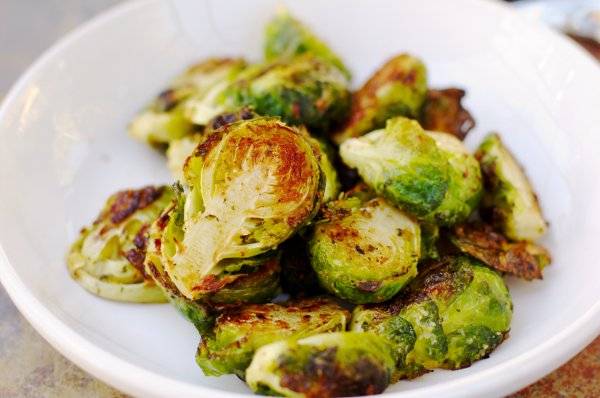 Pesto Brussels Sprouts on the Grill
October 21, 2011
Though known as the dread of children everywhere, the Brussels sprouts in this recipe turn out to be quite delicious.  As an adult, I pushed aside my fear to try something new and tried Brussels sprouts recently. They were pretty good, but I new I could make them better.  Enter pesto sauce.  Brussels sprouts have a kinda nutty flavor anyway, so I had a hunch that the pine nutty flavors of pesto would be a good match.  And I was right!  It was great.  I'm now a fan of Brussels sprouts, and so are my kids.  You will be too if you give this recipe a try.
Prep: 20 mins
Cook: 20 mins
Yields: 4 Servings
Directions
1In a food processor (mine is a Cuisinart), add the garlic, fresh basil and Parmesan cheese.  Pulse until roughly chopped.
2Roast the pine nuts in a large frying pan, dry with no oil.  Over a medium heat on the stove (this is just prep work, you don't have to use the grill), constantly shake, jiggle, flip and stir the nuts to keep them from burning.  Do this until the are a nice golden brown on all sides.  Add them to the food processor while they are still warm.  This is a secret step for my pesto sauce.  The pine nuts take on some extra flavor, and the heat partially cooks the garlic, so it doesn't have a raw flavor if used as traditional pasta sauce.  Chop to a paste in the food processor.
3While the food processor is running, slowly add the oil through the feeder tube.  This is a bit more oil than I use in a normal sauce, but it works good as a marinade on the grill.
4Add salt and pepper to taste.
5Slice the Brussels sprouts in half  (top to bottom)
6In a bowl, add the sprouts.  Pour enough pesto sauce to cover the sprouts with a decent coating, about 1/2 to 3/4 cup.  Add more per your preference.  Let marinade for 1 hour in the refrigerator, stirring or, if you have a lid, shaking occasionally.
7Prepare the grill for medium direct heat.   Add sprouts to your veggie basket or put on skewers.  Place on the grill and cook for 12 to 18 minutes, turning every few minutes, until the sprouts are tender and brown.  Time may vary based on your grill, the basket you use, etc., so just check for tenderness.  Not squishy, but not so firm you can't cut with a butter knife.
Serve these with a nice grilled fish, a steak, or a stuffed chicken breast and enjoy.
0 Reviews