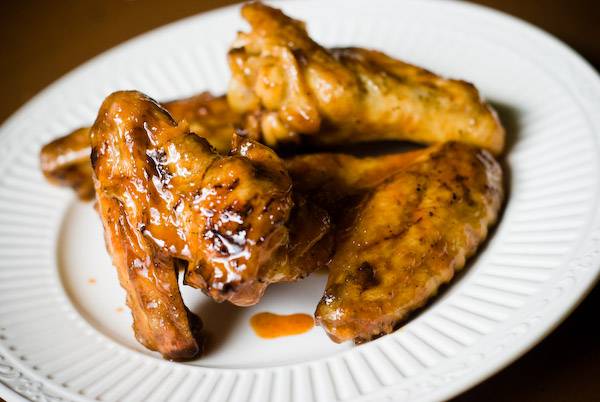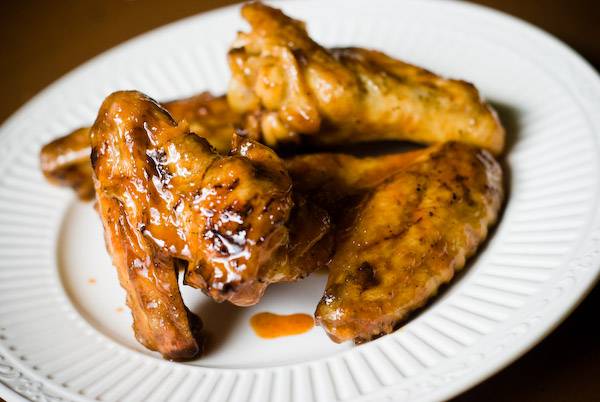 Grilled Sriracha Chicken Wings
October 15, 2011
Sriracha sauce is a magically hot and delicious hot sauce from Thailand.  Straight out of the bottle, this stuff will light your day on fire.  Balanced with a little honey, lime juice and butter and you have yourself a spicy, but not painful wing sauce.  I love to grill chicken wings, especially during football season, but I sometimes get tired of the typical Buffalo sauce.  This is a great alternative to switch it up every once in a while.  We get quite a few questions on our grilled chicken wings article about saucing before, during or after cooking the wings.  I have tried all techniques and I personally think the only thing you are doing by applying sauce beforehand is creating a mess in your grill's drip pan.  When you order your favorite wings at the local Sports bar, do they put the sauce on them before they hit the fryer?  No, that's crazy talk, they put the sauce on them while that skin is piping hot and ready to soak up the good stuff.  Same principle here.  Ok, enough of that, lets get to my favorite new Asian-inspired chicken wings.
Directions
1Preheat your grill to medium-high.
2Combine all of the sauce ingredients into a small pan and heat to a simmer, stirring occasionally.
3Simmer for about 5 minutes and then keep the sauce warm while we grill the chicken wings.
4Trim the wing tips (the part you can't eat) from the wings if you have limited space on your grill.
5Sprinkle the chicken wings with some fresh ground black pepper.
6Grill the chicken wings until cooked through, about 18 to 20 minutes total, turning every few minutes.
7Remove the chicken wings from the grill and place in a pot or bowl large enough to allow you  to toss them around in the sauce.
8Add the sauce to the wings and toss to coat thoroughly, allowing them to soak in the sauce for a few minutes.
9Enjoy with a cool beverage!
1 Review