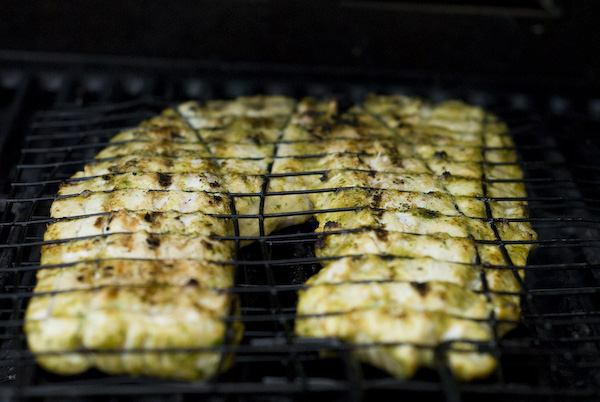 There are few items as healthy or as delicious to grill than fish. We are fortunate enough to live in Florida where we have access to some of the freshest seafood in the country, so fish is one of our favorite meats to grill. These days you can get fresh seafood just about anywhere in the States, so we encourage you to seek out seafood and explore its grilling potential! Fish also just happens to be one of the easiest and quickest meats to cook on the grill. Grilling recipes can be as easy as kosher salt, some fresh ground pepper and a little squirt of lemon, or more complex with marinades and sauces. In this recipe, we will explore a quick and easy marinade you can mix up before grilling your fish. The great thing about this marinade is it only takes about 30 – 45 minutes to penetrate the fish. We actually first introduced this recipe when we were grilling our flank steak, so it's safe to say it is one of our favorites. It works great for grilling chicken breasts as well, but this is about the fish so let's get grilling!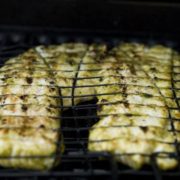 Print Recipe
Grilled Fish Fillet Recipe
This recipe demonstrates the best way to grill any kind of fish fillet, including delicate ones, on the grill. A great marinade recipe makes this grilled fish recipe one of my favorites.
Ingredients
4

Fillets of Fish

similar to Grouper or mahi mahi

Juice from 1 lime

Juice from 1/2 orange

1

clove

garlic

1

tablespoon

Olive Oil

1

handful

fresh cilantro

1

teaspoon

ground cumin

1

teaspoon

Kosher salt

1/2

medium onion

1

jalapeno

seeds removed
Instructions
Place all of the ingredients into a food processor or

magic bullet

(I thought that thing was a gimmick, but it is awesome for small jobs like this) and liquify.  Add more oil if necessary, it should be pretty thick, but you want it to cover the top of your fish.  Set the marinade aside and let's talk about fish.

The Fish. The fish you see in the photos is actually snook, a shallow water fish that lives off of our coast here in Florida.  It's not sold in store, so you have to catch it yourself, which makes it even more delicious when you cook it, but I digress....Snook resembles grouper or even mahi mahi in tast and texture.  For this recipe, choose any similar mild, white fish fillets.  If you can't find grouper or mahi, fresh tilapia is a great alternative.  Ask your local sea food person for a recommendation.

Unwrap the fish fillets and check it for any scales, skin or bones that your fish monger (or fisherman) may have missed.  I like to feel and bend the fish all over to check for bones.  Take this opportunity to remove any scales or skin with a sharp knife as well.  We don't want to grill the fish with the skin on for this recipe.  Now that you have a nice and clean filet, rinse it with cold water and then pat dry with some paper towels.  Now place the fillets in a glass bowl and pour the marinade over the fish.  We are going to now going to cover and place the bowl back in the refrigerator for at least 30 - 45 minutes, but no more than a few hours. Flip the fish at least one time during the marinating process to make sure the whole fish gets some delicious marinade.

Ok, the moment of truth has arrived.  We have cleaned the fillets and they have been marinating for at least 30 minutes.  Let's talk logistics before we go much further.

Tip #1 Flippin' Fish Handling

...We are about to place a delicate, flaky fish on a hot grill.  Sure, the fish will go on the grill nice and easy, but good luck trying to flip it once it starts cooking with a spatula without sacrificing some of the flaky goodness to the grill.  That's why we always use a

non-stick fish grill basket

to grill fish.  This is a cheap grilling accessory that will save you a lot of grief.  Once you secure your fish in the basket, you can flip and move your fish as much as you want without damaging the fish.  Trust us, it's worth it!

Tip #2 Grilling Fish Visually...Fish grills pretty quickly and the nice thing about grilling fish fillets is that you can watch them progress through the cooking process.  Fish fillets start out translucent and become more and more opaque as they cook.  As the fish cooks on the grill, you will be able to see the opaqueness progress through the fillet.  When the top of the filet starts to make the slightest change in color around the edges, it's time to flip.  This entire process only takes about 3 - 5 minutes per side for a 1 inch thick fillet.  Told you this was easy and quick!

Let's Grill That Fish!

Logistics are out of the way and those fish fillets have been patiently waiting in the marinade, so go ahead and fire up the grill now and leave it on high heat.  While the grill is heating up, lock the fish fillets into the

fish grill basket

.  Don't shake the fillets too much, we want some of that thick marinade to grill into the fish.  Now set the fillets in the fish basket over the hottest part of the grill, leaving the handle hanging off of the grill so that it stays cool enough to handle safely.

After 3 - 5 minutes (as we said before, you should see the edges becoming opaque), it's time to flip the basket of filets.  Pick up the backet by the handle, flip it over and set it back down on the hottest part of the grill.  Grill for an additional 3 - 5 minutes and you should be done!  Once you remove the basket from the grill, it's ok to test the fillets with a fork.  The meat should flake away easily and the middle should be opaque.  If it is too translucent in the middle, go ahead and stick the backet back on for 2 - 3 minutes.

That's it!  The fish has a delicious citrus and cilantro flavor.  Grilling the fish after marinating really brings out the flavors of the marinade.  So go ahead, pick up some fresh white fish fillets and try this delicious grilling recipe.  Get some shrimp while you are there and put together some

shrimp kabobs

for an appetizer!  Want something a little more substantial?  Throw that delicious fish on a few toasted tortillas, cover with a delicious cream sauce and you've got yourself some awesome

grilled fish tacos

!