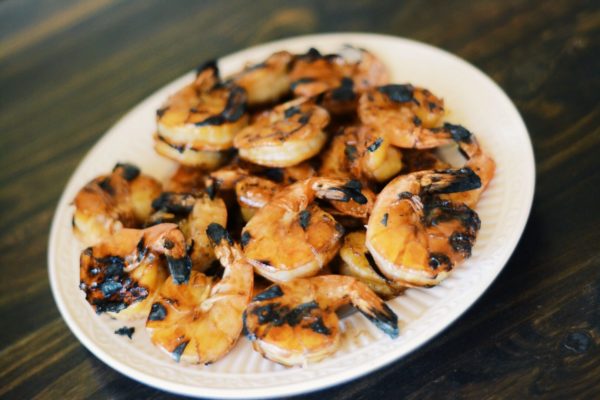 I'm usually a "no shells" guy when it comes to grilled shrimp. I'd prefer to just eat them right off of the stick, all Caveman style and what-not. This shrimp teriyaki marinade contains a lot of sugar though, which tends to caramelize quickly over high heat, so those shells really save the day by providing a barrier to the heat. The shells also hold some of that delicious marinade and bits of ginger in place longer, ramping up the teriyaki taste points. Make sure you still devein your shrimp by cutting through the back of the shell and removing the dark vein. Better yet, most supermarkets sell them already deveined but in the shell. The teriyaki marinade shown below is a simple recipe just for marinating the shrimp. If you really want to ramp up the recipe, throw together this teriyaki sauce recipe to serve with the shrimp for dipping and to drizzle over a side of rice.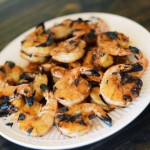 Print Recipe
Shrimp Teriyaki on the Grill
Use shrimp still in the shell for this great and easy shrimp teriyaki for the grill recipe
Ingredients
1 pound large white shrimp, in the shell but deveined

1/2 cup soy sauce

1/4 cup water

1.5 tablespoons brown sugar

2 cloves of garlic, minced

2 teaspoons fresh ginger, minced

1/2 cup white sugar
Instructions
Combine all of teriyaki marinade ingredients in a small sauce pan and heat until simmering, stirring to dissolve the sugar.

Once the sugar is dissolved, remove the teriyaki marinade from the heat and quickly cool by placing the sauce pan in an ice bath.

Once the marinade is completely cooled, place the shrimp in a sealable bag, pour in the marinade and place the bag in the refrigerator.

Marinate the shrimp teriyaki in the refrigerator for 45 minutes. No longer though because the marinade will tend to toughen the shrimp.

Heat the grill on high with the lid closed for 10 minutes.

Remove the shrimp from the teriyaki marinade and thread onto skewers. As an aside, don't worry about soaking those skewers. I have never noticed a difference, they still burn. Instead, just thread the shrimp almost to the end of each skewer. I just saved you an hour, you are welcome.

Ok, grilling these bad boys is a quick process. We don't ever want to overcook shrimp, so don't linger too long over the grill. Grill the shrimp over high heat with the lid open for 3 minutes per side. The shrimp will turn opaque when cooked through and the marinade on the shells will caramelize nicely.

Remove the shrimp teriyaki skewers from the grill and serve.