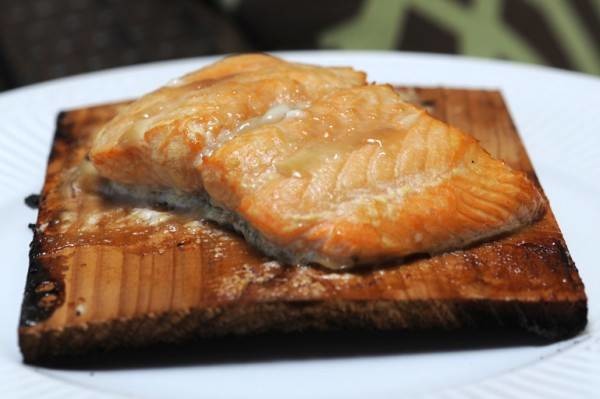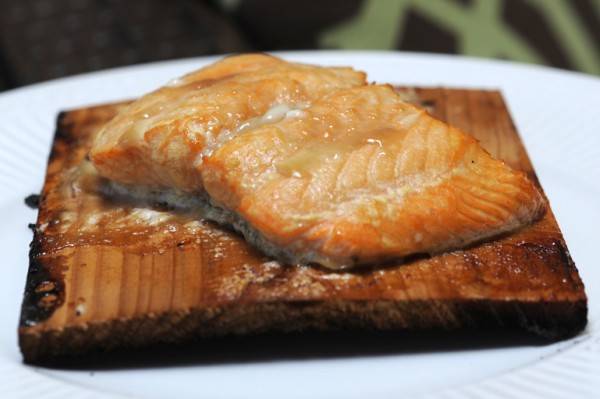 When we attended a bourbon tasting a few weeks ago, and grilling came up in conversation (it usually does with us for some reason). The natural recipe that came to everyone was salmon on the grill. So when a friend suggested we get together and grill some salmon I figured I'd revisit this old grill favorite, break out the cedar planks, and see what a tasty bourbon and maple syrup based glaze could do for it.
It's so simple, but the flavor is fantastic.  The bourbon and maple syrup on plank grilled salmon works wonderfully.  The key is to baste a lot through the cooking process. And as usual with recipes like this, when measuring the bourbon, it is equal parts for both the recipe and the chef.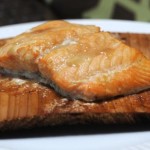 Print Recipe
Maple Glazed Salmon
Bourbon maple marinade for salmon grilled on a cedar plank
Ingredients
1 1/2

pounds

salmon fillet

1/2

cup

honey

1/2

cup

real maple syrup

1/2

cup

quality bourbon

2

tablespoons

olive oil

1

cedar plank
Instructions
Submerge the cedar planks in water for an hour or so. This prevents the plank from burning and will steam the fish while on the grill. We use a few canned soft drinks (beer is for drinking) or a pan filled with water to keep the planks from floating.

Mix the bourbon, honey, and maple syrup in a bowl.

Remove any pin bones and cut the salmon into filets about 2 1/2 to 3 inches wide.

Place the salmon in a baking dish and pour 1/2 a cup of the glaze over the salmon. Return the fish to the refrigerator while you prepare the grill.

Prepare the grill for medium high direct heat. If using charcoal, after the coals come up to temp, put the lid on with the vents half closed for about 10 minutes to back the temperature down.

Remove the planks from the water. Oil the smoother side of the plank with olive oil. Place the filets on the oiled plank skin side down with at least one inch of space between the filets.

Place the planks on the grill and cook with the lid closed for about 15 to 25 minutes. Baste with remaining glaze every 5 to 7 minutes. As usual, the time on the grill depends on the grill and the thickness of the filet. If you cook by temperature, which we recommend, cook to 145° F, but don't overcook or it will be dried out. When it gets to 135 ° F, keep a close eye on it.