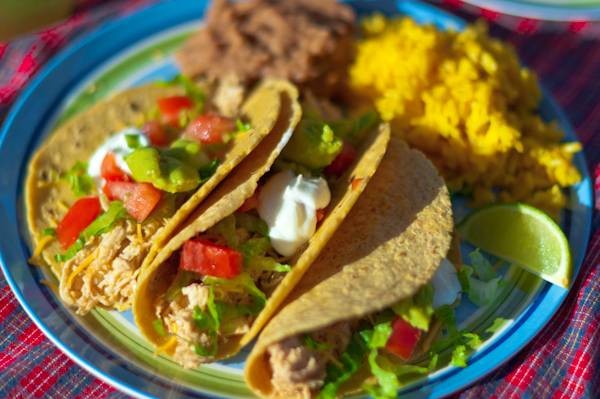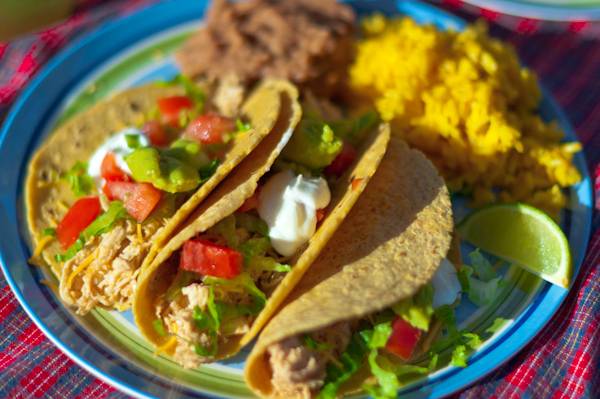 Inspired by a simple and useful trick to shred chicken, this chicken taco recipe turned out to be one of the best new recipes that I've made in a long time. My favorite Mexican food is from a small, family owned joint just up the street. They use soft corn tortillas, moist shredded chicken, and a soft white shredded mystery cheese. Starting with the fresh salsa, homemade chips and a margarita or two to kick things off probably influences my opinion.  But with or without the margaritas, this chicken recipe is pretty darn good.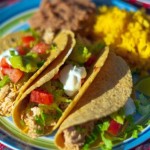 Print Recipe
Chicken Taco Recipe
Shredded chicken taco recipe
Ingredients
3

boneless skinless chicken breasts

1/2

cup

chicken broth

3

teaspoon

chili powder

2 1/2

teaspoon

paprika

1 1/4

teaspoon

cumin

1 1/4

teaspoon

onion powder

1/4

teaspoon

garlic powder

1

Dash

cayenne pepper

Sour cream

Soft corn tortillas

lettuce

shredded cheese

diced tomatoes
Instructions
While the chicken is cooking, mix in a bowl the chicken broth, the chili powder, paprika, cumin, onion powder, garlic powder, and cayenne pepper.  Whisk until thoroughly mixed.

After the chicken is cooked, remove from the grill and put them in a stand mixer with a paddle attachment. Start off slowly then bring to full speed. This will shred the chicken perfectly for tacos (or barbecue chicken sandwiches). At first my mixer thumped a lot and tried to walk off the counter, so keep an eye on it.

Add the liquid to the shredded chicken until it is moist (not sopping).  The amount required will vary based on how closely you watched the chicken on the grill.  Too long = dry = add more liquid.

Warm the tortillas in a frying pan.

Assemble the taco with chicken, cheese, tomatoes, lettuce, guac, sour cream, a squeeze of lime, some salsa and whatever taco ingredients float your taco boat.