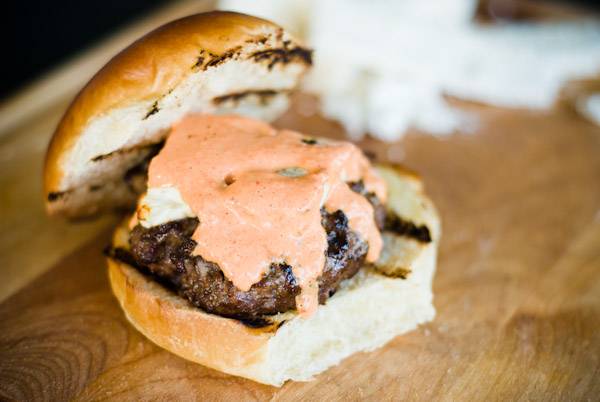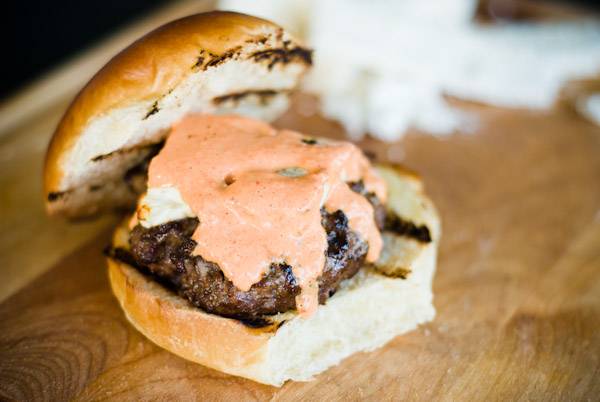 Feta Burger with Red Pepper Aioli
April 13, 2012
My new title for Grilling Companion is Hamburger Helper.  I have a business card and everything, so that makes it official, right?  I like that title because it pretty much sums up my grilling goals lately, which is helping hamburgers get into my belly in as many combinations as possible.  I love Greek food and had a huge block of feta cheese left over from the last trip to Costco (yeah, I actually make special trips there for large quantities of cheap(er) cheese).  I decided to throw together this great aioli sauce from the roasted red peppers I wrote about last week, combine with the feta and create a Greek burger.  The resulting combination that was created between hamburger patty and bun was nothing short of a Greek miracle to my tastebuds.  I recommend keeping the bowl of aioli close, you are going to want to drizzle a little extra on every bite.  Lets get to it.
Ingredients
For the Aioli:
1 roasted red pepper, chopped
For the burger:
Feta cheese (crumbled or sliced)
Ground chuck (or other 80/20 ground beef)
Directions
1To make the roasted red pepper aioli, place the mayonnaise, roasted red pepper and garlic in a food processor and blend until smooth.  Add the olive oil while the processor is still going, but once the texture is smooth.  Salt and pepper to taste.  Store the aioli in the refrigerator until ready to serve (use it on your turkey sandwich tomorrow too!).
2Preheat the grill to high heat.
3Form your hamburger patties with a dimple in the middle to keep them from blowing up like the Michelin Man.  Here are some tips on making the burger patties.
4Once the grill is nice and hot (preheat for around 15 minutes), place the hamburger patties on the hottest part of the grill and leave the lid open.
5Grill for around 6 minutes (these times vary per grill, but 6 - 8 minutes is about right) on the first side.
6Flip the burgers and put the feta cheese on the patties to heat up while the burgers cook the rest of the way.  Note, the feta will not melt so technically you can add it at the end or on the platter.  I like to put it on the burgers to at least get it warm while the burgers continue cooking.  It is up to you.
7Grill for another 6 minutes on this new side of the patty or until a good meat thermometer reads 155 to 160 degrees.
8Remove the burgers from the grill and toast some buns on the still hot grill.
9Serve the feta burgers on a toasted bun with a generous amount of the roasted red pepper aioli on top!
0 Reviews