This article is brought to you by a guest author, August Bering V, who shares our passion in grilling.  We agree that these are some great products that are worth a look.  Thanks Augie!  -Tom
The temperatures are rising and the thoughts of a certain group of people are turning towards the grill, languishing in the backyard after months of inactivity. This time of year is a good one to plan a new grilling project or to steel one's resolve for a deep cleaning of a crusty pit. It is also a good time to consider some new accessories from the continually evolving barbeque aisle. Twenty years ago the selection of available accessories was pretty meager. Spatulas, forks, baskets and maybe a few specialty items were the sum of add-ons at the local home center. Times have changed! The rapidly expanding list of gadgets to help you grill can certainly be daunting. Here are five relatively new items vying for your grilling dollar.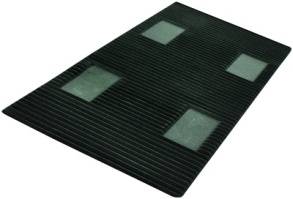 Grill Mats
First up is a mat for under your grill. Most important for charcoal grilling, these mats keep unwanted ash and grease stains off your nice deck or patio. It is often helpful to have a slightly textured surface to park your grill on, to help the pit feel secure. This particular mat has a couple of nice features: it rolls up, unlike many of the early grill mats and it is manufactured out of 99% recycled materials.
Lighting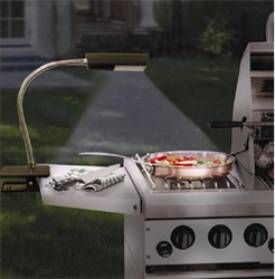 It is also time to reconsider lighting. If you are lucky enough to have adequate lighting for evening or dusk cooking, the irritation of having to return meat to the grill due to undercooking is probably somewhat unknown to you. For the rest of us, having a bright and inexpensive light at hand is an invaluable aid to summer evening grilling. The current generation of BBQ lights is less expensive and typically uses LEDs as opposed to incandescent or halogen bulbs. This leads to lighter and longer lasting lights that don't require an extension cord to produce adequate light. This one from Maverick industries is a nice balance of affordability and usability with 4 LED bulbs powered by three AAA batteries. Depending on your usage, the batteries will probably need to be replaced once or twice a year.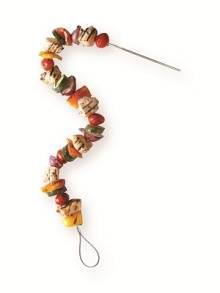 Skewers
Who doesn't love meat on a stick? Cooking on a kabob may be the oldest form of cooking on Earth. Now that concept has been updated by Inno-Labs with their Firewire skewers. By replacing a rigid skewer with the metal cable of a Firewire, several problems are solved. Meats and vegetables can be marinated on the wire easily in any container or a plastic bag. The wire can be looped for a more efficient use of grill space and by heating the entire skewer, sanitation is ensured. Since it is constructed of stainless steel you no longer need to presoak skewers to keep the heat from burning them up.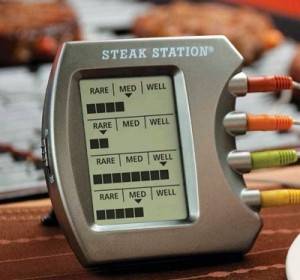 Meat Thermometer
The Steak Station from Charcoal Companion is a nifty solution to a complaint common among backyard chefs everywhere. By combining four different probes into one central unit, the user can effectively monitor four different pieces of meat simultaneously. No more sacrificing a steak that is too cooked for one guest while another is underdone in an effort at compromise. The four colorful leads clearly indicate which steak is ready to come out bloody while the more conservatively cooked pieces patiently wait. This item is specific to steaks; the readout doesn't indicate temperature, just where on the rare to well-done scale each steak falls.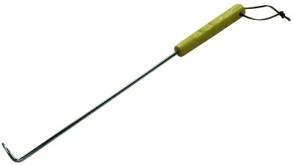 Steak Hooks
The last item I want to highlight is also steak-specific. Steak hooks are certainly not a modern invention, but they do seem to be returning to the fore as more people discover them. If you are grilling steaks or other medium-weight, textured meats it can be difficult to reposition and flip them on the grill. Spatulas are great, but they don't necessarily fit the bill when it comes time to pull a sticky porterhouse from your blazing grill. Available from many different manufacturers, this tool allows confident and fast turning and removing of steaks from any grill.
About the Author
August Bering V, "Augie" to his friends, is President of Bering's Hardware in Houston, TX. Bering's is well known for a broad range of carefully selected home goods such as housekeeping products to grilling products and accessories, and red carpet service that has delighted customers for generations since 1940. From your bridal registry, decorating your first home, to your first baby registry, Bering's has special gifts for special occasions and the right tools for the right job. Augie enjoys spending time with his family and friends, grilling and cooking, playing hard outside, travelling, design, art, live music, and spending as much time as he can with his family.