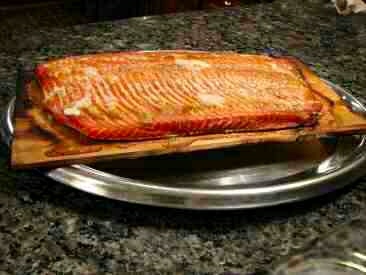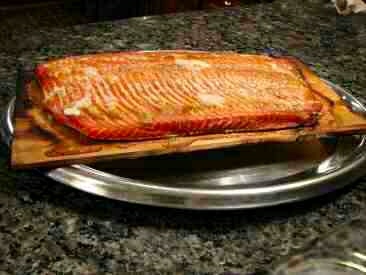 Salmon Cedar Plank on the Grill
September 9, 2008
A very popular grill fish, salmon on the grill is made even better when it is grilled on a cedar plank. The cedar plank adds a sweet, almost honey-like, smoky flavor to the salmon. This smoky flavor on top of the mild flavor of fresh salmon makes a tasty, healthy dish. In this salmon cedar plank recipe we use wild sockeye salmon. If you can find fresh wild sockeye salmon, it has better flavor than farm raised salmon.
When using a cedar plank, always make sure you use untreated cedar.  We recommend you use cedar planks that are made for cooking.  We use these cedar planks from Amazon
but you can find them at many local stores.
Prep: 50 mins
Cook: 20 mins
Yields: 4 Servings
Directions
Prepare the plank
1Soak the plank for several hours in water. This allows the plank to absorb the water, which will keep it from burning and steam the fish while on the grill.  We use a pan filled with water to keep the plank from floating since keeping it submerged will cause it to absorb more water.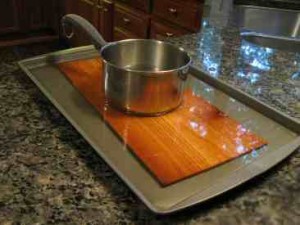 Prepare the fish
1In a dish, mix the brown sugar, the soy sauce, white wine and dry sherry.  In a baking dish that will hold the salmon, lay out the salmon fillet skin side up. Pour the marinade over the salmon. Lift the fillet to allow the marinade to reach all parts of the salmon. Marinate for 1/2 hour.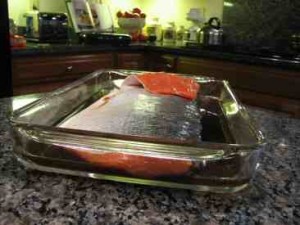 1Turn the salmon over, skin side down, and marinate for another 1/2 hour.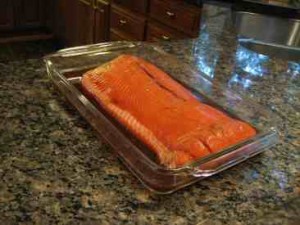 Prepare the grill
1Heat the grill to medium high heat, 375 to 400 degrees. Five (5) minutes before you are ready to start grilling, place the plank on the grill.  We use indirect heat with a closed lid in this case, as it preserves the plank so you can use it several times, so don't place the plank directly over the flames or coals.  After heating the plank for 5 minutes, brush a thin layer of oil on the surface of the plank being careful not to spill any on the open flame.
Grill the salmon fillet
1Add the salmon fillet to the warm and oiled cedar plank.  Close the lid and let the salmon cook until it reaches an internal temperature of 140 degrees (about 15-25 minutes).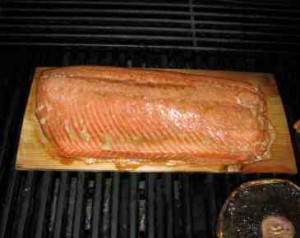 1Remove from the grill and serve your delicious cedar plank salmon.
A nice California chardonnay goes great with salmon.
As a side dish, we recommend grilled asparagus and grilled potatoes.
1 Review