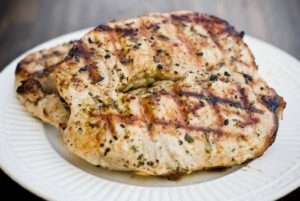 Pork recipes start with pork chops, a basic grilling recipe that everyone standing over the coals should know how to master.  While thick cut pork chops may be more appetizing, sometimes it is hard to pass up the deals on the thinner cut chops when you've got a house full of guests to feed. Thin and lean pork chops thaw out relatively quickly, making them perfect to keep on hand for last minute dinner grilling. At Grilling Companion, we have the recipes and tips to help make the thinner cuts be as tasty and moist as the thicker cuts.
This lean cut of pork is like a blank canvas to us artists of the open flame. You can get fancy with sauces and marinades, but you can also keep it simple and let the delicious meat shine through. Rub on a little fresh ground black pepper, some garlic powder and kosher salt and you've got the potential for a great dinner of grilled pork chops, as long as you grill them properly.
Pork can be simple and yet delicious as long as you pay attention to technique.  Our pork recipes are full of temperature and timing  tips and visual cues to help you become a master. Remember, you can always throw those rare chops back onto the grill but you can't inject moisture back into that overdone pork. 
Looking for Lamb Recipes?
---
Featured Recipes