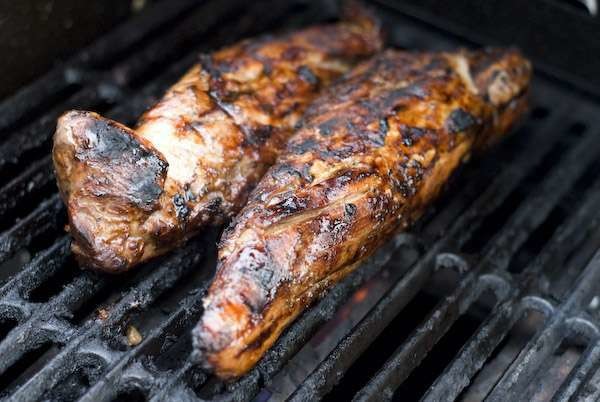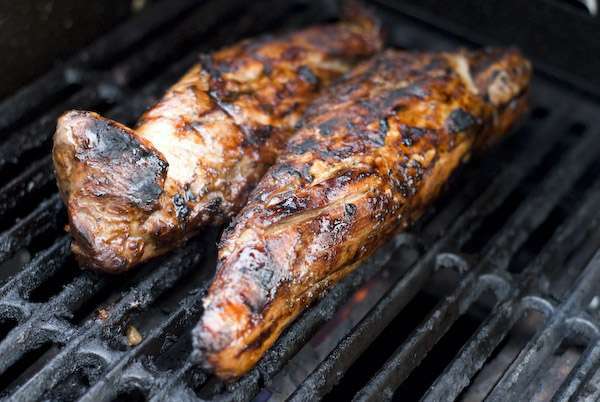 Updates for 2017: Grilled pork tenderloin continues to be a favorite with my family so I have a lot of these under my belt at this point. Updating this recipe to reflect my new recommendation for doneness temperature. I prefer to remove the meat from the grill once the internal temperature at the middle of the pork tenderloin hits 140 degrees. Drape a sheet of aluminum foil over to let rest for about 10 minutes and you should have close to a perfect 145 degrees once you start carving the meat.
Pork, the other white meat. That's a slogan we all have heard a million times on commercials. I'll tell you what though, in my eyes a perfectly grilled pork tenderloin is the ONLY white meat I need. In reality, I love most cuts of pork. I love to get messy with some grilled baby back ribs, love to get sauce all over my shirt while eating a pulled pork sandwich and it's hard to beat a simple grilled pork chop. So I guess you can say I am big on the pig, but to me the pork tenderloin offers the most potential. This cut of pork is the most healthy cut of pork. Cut from the back of the pig, it has virtually no fat. This fact also makes it easy to dry out, for that reason we really need to focus on technique, grill it hot and grill it fast to lock in the juices. Tenderloins also absorb marinades really well so for this recipe, we are going to marinade our pork tenderloin just to give it a little more flavor. Let's take a look.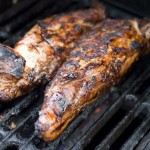 Print Recipe
Marinated and Grilled Pork Tenderloin
Marinated and grilled pork tenderloin is a simple recipe with delicious results. But be careful not to overcook this lean cut or it will be dry. Follow our guide to get this one right.
Ingredients
1 - 2

pounds

pork tenderloin

2 tenderloins

1/2

cup

soy sauce

1/4

cup

balsamic vinegar

4

cloves

garlic

minced

1/4

cup

brown sugar
Instructions
Pay attention, there aren't many steps involved in producing the best grilled pork tenderloin. This piece of meat is so tender, it doesn't need a lot of help! Mix all of the marinade ingredients together and pour into a large Ziplock type bag.  Place the tenderloins in the bag and squeeze out as much air as possible before sealing.  Place the bag in the refrigerator and marinade for at least an hour, up to 24 hours.

Remove the tenderloins from the marinade about 30 minutes before you are ready to grill and allow to gently warm up on the counter.

Heat the grill to medium-high heat.

Now we have a tenderloin that has been soaked in some great flavors, we need to make sure we don't screw it up on the grill!  The key to properly grilling a pork tenderloin is to evenly cook the pork through by grilling each of the four sides.  This cut of pork is tubular, so we want to roll it to each of the four sides while we grill.

Once the grill is heated, place the tenderloin on the grill and grill the first side for around 5 minutes (times vary per grill, you are looking for a nice crust to form like shown in the photo, but not too much charring!).

After 5 minutes, roll the tenderloin onto the the next side and grill for another 5 minutes.

You know the drill now, 5 minutes per side, until an instant thermometer reads around 140 degrees at the middle of the pork tenderloin.

Allow the grilled pork tenderloin to rest on a platter for about 10 minutes covered loosely with a piece of aluminum foil before you slice into it. The rest period should get the temperature to just barely a perfect 145 degrees.
Nutrition
Calories:
292
kcal
|
Carbohydrates:
19
g
|
Protein:
38
g
|
Fat:
6
g
|
Saturated Fat:
2
g
|
Cholesterol:
111
mg
|
Sodium:
1716
mg
|
Potassium:
778
mg
|
Fiber:
1
g
|
Sugar:
16
g
|
Vitamin C:
1
mg
|
Calcium:
37
mg
|
Iron:
3
mg
Grilled pork tenderloin is an awesome, lean cut of pork.  If you don't have time to marinade, no sweat, it will be delicious with some Kosher salt and black pepper.  The key is to grill it properly, over high heat and turning often to get a nice caramelized crust without drying out the pork.  If you do have the time though, try it marinated, it's well worth the wait!