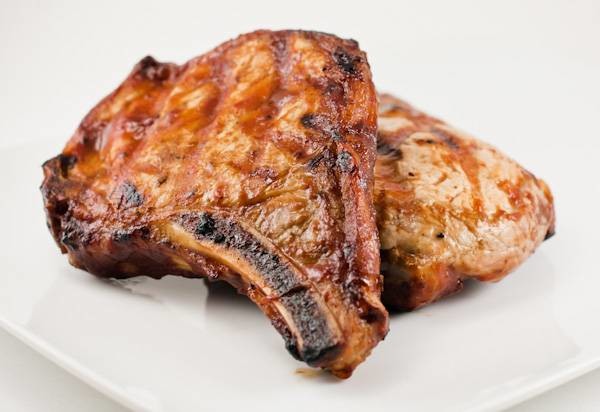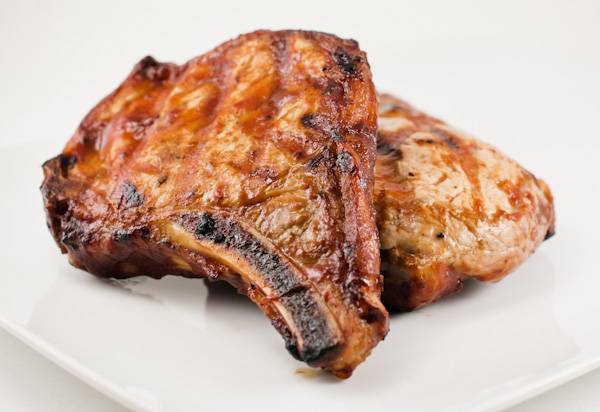 Barbecue pork chops are a basic grilling recipe that everyone standing over the coals should know how to master. And while I too am a fan of the thick cut pork chops, sometimes it is hard to pass up the deals on the thinner cut chops when you've got a house full of guests to feed. No reason those can't be tasty and moist as well.
I know some people argue that you shouldn't add BBQ sauce until the meat is removed from the grill due to the caramelization of the sugars in the sauce. But I actually prefer a bit of this as I feel it adds to the flavor of the sauce. Not burned, but a little bit browned. Hot enough that the BBQ sauce bubbles, thickens and darkens and the flavors seem to intensify.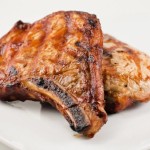 Print Recipe
BBQ Pork Chops
Barbecue pork chops, a grilling staple for all outdoor chefs, is delicious recipe when cooked properly.
Ingredients
6

pork chops

1/2 to 3/4 inch thick

salt and pepper to taste

1

cup

BBQ sauce, you favorite recipe or brand
Instructions
Prepare the grill for high direct heat, preheating until it is ready.  Oil the grates.

Trim off excess fat and salt and pepper both sides of the pork chops.

Add to grill over direct high heat with lid closed.  Cook for 2 minutes.

Turn pork chops over and continue grilling, lid closed, for another 1 minute.

Reduce grill to medium low with a gas grill or move chops to a cooler portion of the charcoal grill.

Brush a liberal amount of barbecue sauce on the chop and flip.  Brush barbecue sauce on the upward side as well, so that all sides have been sauced.

Cook for another 1 minute or until the internal temperature of the chop is 145° F.

Remove from grill and let rest for about 5 minutes.