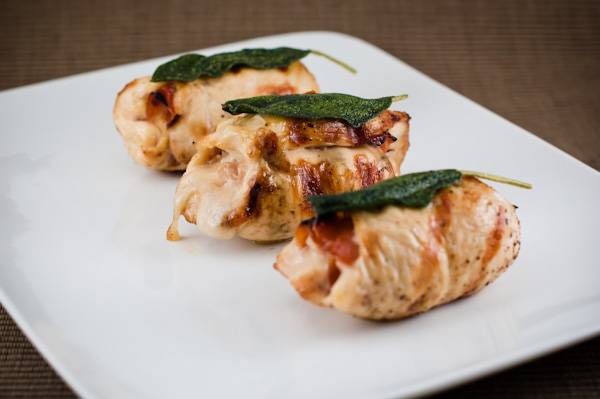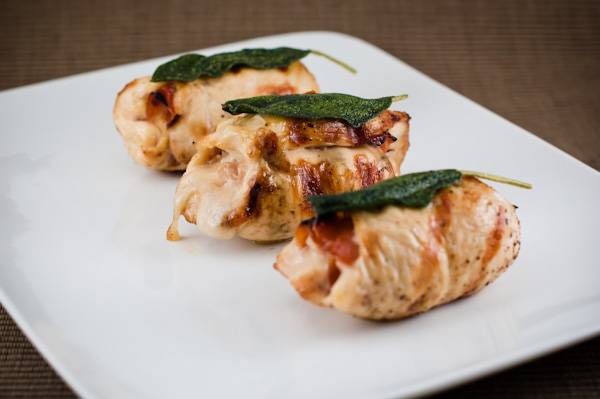 Chicken Rolled with Prosciutto and Fontina Cheese
November 23, 2011
Any recipe that involves pounding chicken flat is a winner for me.  For some reason it makes me think of Monty Python.  I'm not sure if there is actually a skit that involved flattening out a chicken with a large frying pan, but there should have been.
In this very easy recipe, we bring together the great flavors of prosciutto and Fontina cheese in rolled chicken.  This worked great on the grill, giving it another dimension of flavor than if you just baked it.
Prep: 20 mins
Cook: 15 mins
Yields: 4 Servings
Directions
1Flatten each chicken breast individually.  On a large cutting board, on a strong, stable surface, place the chicken breast half between two pieces of plastic wrap.  Alton suggests that we put a little water on the chicken and on top of the plastic wrap to keep the chicken from sticking and let the plastic slide around a bit.
2Using a large, heavy frying pan, or a mallet, or a rolling pin, or a can of soup (or a bowling ball?), pound the chicken breast until it is about an 1/8 of an inch to 1/4 inch thick.
3Add a slice of prosciutto to the chicken.  Add a slice of Fontina on top of the prosciutto.
4Roll up the chicken and use a few toothpicks to secure the roll.
5Add salt and pepper to taste.
6Repeat for the rest of the chicken breast.
7Prepare the grill for direct medium heat grilling.
8Place the chicken rolls on the grill and cook each side about 4 to 5 minutes until golden brown and they reach an internal temperature of 165° F (use your instant read thermometer)
9Fry up the sage leaves in the butter, a minute or so on each side 'til a bit crispy.  Top the chicken with the sage leaves for a nice touch.
0 Reviews