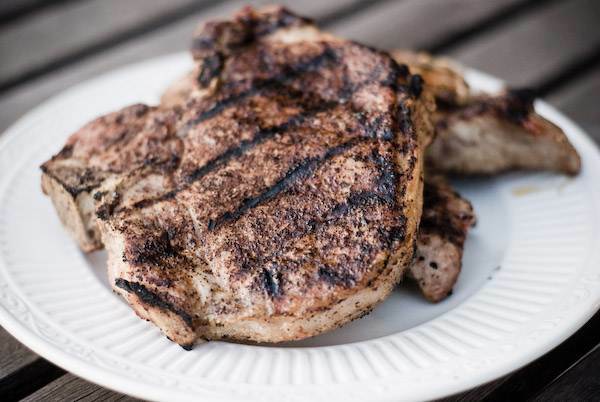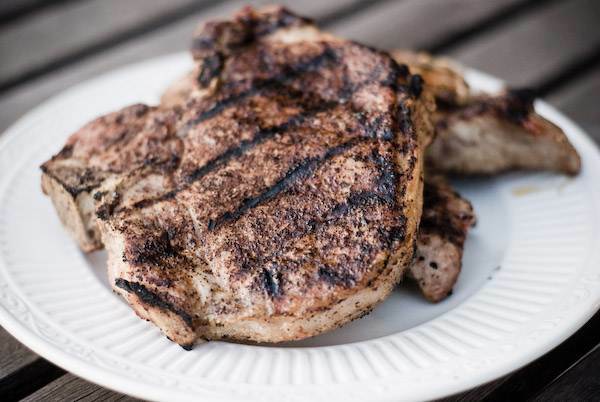 Grilled Pork Chops with Coffee Rub
November 20, 2009
"Coffee and pork chops?  I'm not eating that...".  My wife was hesitant, to say the least.  To be honest, I was a little unsure as well, but I had heard about this rub from enough people that I knew I had to give it a shot.  I faked some confidence and convinced my wife to allow me to try this concoction.  It took me a few iterations to get the combination right, but I ended up with a rub that really was awesome.  The coffee really isn't overpowering at all.   It adds a great subtle flavor that really goes well with the chili powder and brown sugar.  Still with me?  Curious?  You should be, let's walk you through this and broaden your dry rub horizons!
Prep: 15 mins
Cook: 15 mins
Yields: 4 Chops
Directions
1Mix all of the rub ingredients together well in a small bowl.
2Generously rub the dry rub into the pork chops and then allow the chops to sit on the counter for about 20 minutes while you get the grill ready.
3Light the grill and heat to about medium high heat.
4Place the pork chops on the grill.  For thinner cuts, 1 inch or less, grill them over direct heat with the lid open.  They should cook rather quickly, about 5 - 8 minutes per side (depending on the temperature of the grill obviously).  For thicker cuts, grill with a little lower heat and close the lid.  The same times should apply, but you may need to go longer.  You can check the doneness using a pair of tongs.  The more firm the meat is, the more it has cooked through.
5Remove the pork chops from the grill and allow them to rest for 5 minutes before cutting into them.
So did I win my wife over with this recipe?  I'd say so.  I actually only rubbed 2 of the 4 pork chops for the first batch.  Once she tasted a bite, she gave me the go-ahead to rub down the other 2 chops with some java goodness.  Yep, this one's a keeper...
3 Reviews