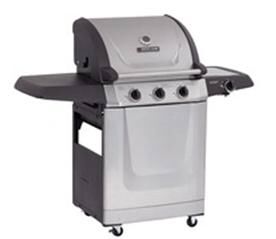 These seem to pop up a lot lately for the cheaper lines of grill sold at the "box" stores, hmm, see a pattern? I think I actually have one of these models, so I will update this post as I learn how to get the replacement lid and burners. Jump over to the Consumer Product Safety Commission to read all of the details. The only thing I really needed to read there were the models and the fact that the LIDS HAVE CAUGHT ON FIRE IN SOME INSTANCES. Yikes!
UPDATE 11/20: Called (888) 840-9590 and they are mailing a form to fill out (why can't that be online?). The lady said "please refrain from using your grill until you get the replacement parts".
UPDATE 12/6: Still no letter/form from Lowe's (2 weeks). Glad my grill hasn't melted yet :).
UPDATE 12/9: I received the 1 page form in the mail this week. Remarkably, they included an email address, so that I could fill out the form, scan it and send it in. I say remarkably because it blows my mind that they can receive email. I assumed that since they were sending all of the forms via "snail mail" that they were living in 1993. Why, again, couldn't I just download the single page form? Oh well, they say the parts will ship in "late December".
Models recalled:
| Model | Replacement Burners | Replacement Lid |
| --- | --- | --- |
| SLG2006B | Yes | No |
| SLG2006BN | Yes | No |
| SLG2006C | Yes | No |
| SLG2006CN | Yes | No |
| SLG2007A | Yes | Yes |
| SLG2007B | Yes | Yes |
| SLG2007BN | Yes | Yes |
| SLG2007D | Yes | No |
| SLG2007DN | Yes | No |
| SLG2008A | Yes | Yes |