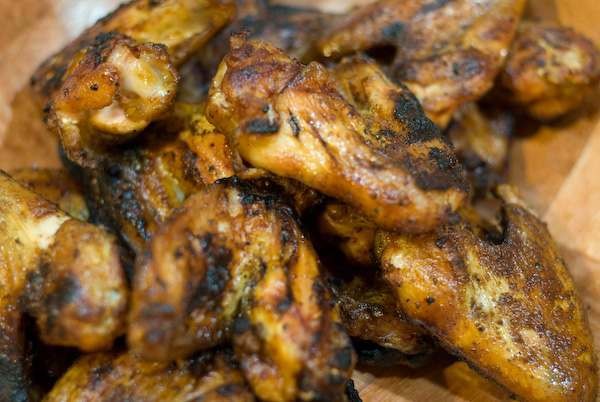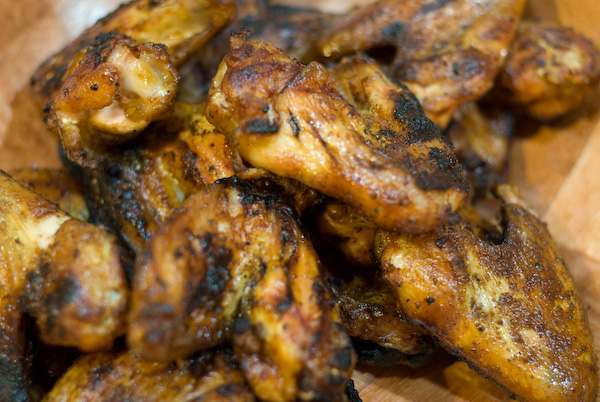 I think I have about overdone it with my new homemade smoker. Any time my wife mentions cooking I usually blurt out "why don't we smoke it?" before she can even finish her sentence. She finally let me light the coals again this weekend while we were just sitting around watching football. There's something about watching football that makes me crave grilled chicken wings, so I thought I'd try smoking some wings this time. I'm always looking for new items to center my next potluck sign up around for tailgating season, so I need to practice, right? The only problem though is that smoked chicken usually has a nice soft skin. Chicken wings on the other hand should have a crispy skin that can soak up all that delicious sauce (if you are in to that sort of thing). Ah ha! A perfect excuse to burn even more fuel, I'll fire up the grill and crisp up the skins once they have cooked on the smoker! Overkill? Nah, it's beautiful in Florida outside this time of the year, so why not extend my outdoor cooking duties? Let's take a look at the process.
For smoking any kind of chicken, I like to make a quick dry rub. A simple dry rub can be thrown together from stuff you should always have in your pantry anyway. Experiment by adding your own favorite spices, but this one will get you a good tasty foundation: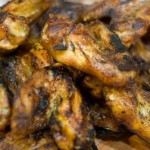 Print Recipe
Smoked and Then Grilled Chicken Wings
Smoked and grilled chicken wings make a tender, smoky, crispy skin wing that is hard to beat. This is a friend and family favorite.
Ingredients
20

chicken wings

1

tablespoon

Kosher salt

1

teaspoon

fresh ground black pepper

2

teaspoons

paprika

1

teaspoon

garlic powder

1

teaspoon

onion powder

1/8

teaspoon

cayenne

start small and add more if you like spice
Instructions
First step is to fire up the smoker and get the coals burning while we get everything else ready.  Fill up a chimney starter with coals and let them burn down until you see ash forming on the top coals.

Once those have burned down, empty them into your smoker's fire basket, open the ventilation and close the lid so she can heat up.  The wings only need about 45 minutes to cook at around 300 degrees, so no need to add unlit coals for a longer burn.

While the smoker is getting itself ready, throw together your rub and mix thoroughly.

I like to cut off the actual wing part of the chicken wings.  This is the wing tip that has no meat on it, but they somehow always leave it on when butchering the chicken.  It's optional, but just takes up room on the smoker or grill.

Rub your wings down with the rub, throw a handful of wood chips on the smoker then place the wings on your smoker's grate.

Get your smoker at a stable 300 - 315 degrees and let them smoke for about 45 minutes.

Once the wings have cooked on the smoker for 45 minutes, the meat should be cooked through.  Fire up your grill to medium.

Transfer your wings over to the grill and grill them for about 2 minutes per side.  This should be quick, we just want to crisp up the skin.  A little charring isn't bad, but watch those flare ups!

Remove from the grill and either serve "dry" or toss them in your favorite wing sauce!
Nutrition
Calories:
542
kcal
|
Carbohydrates:
2
g
|
Protein:
44
g
|
Fat:
39
g
|
Saturated Fat:
11
g
|
Cholesterol:
185
mg
|
Sodium:
1921
mg
|
Potassium:
407
mg
|
Fiber:
1
g
|
Sugar:
1
g
|
Vitamin A:
872
IU
|
Vitamin C:
2
mg
|
Calcium:
29
mg
|
Iron:
3
mg
Don't have any bottled wing sauce in your refrigerator? It's really easy to make with stuff you can just have sitting around the house. Here's a quick chicken wing sauce recipe:
Chicken Wing Sauce:
4 tablespoons Crystal or similar hot sauce (more to taste, depending on your preference for heat)
1 tablespoon white vinegar (increase a little if you add hot sauce)
2 tablespoons melted butter
1/4 teaspoon garlic powder
Mix all of the ingredients thoroughly and that's it! I preferred the wings dry in this case actually. I dipped a few in the wing sauce, but they were awesome with just the dry rub. The smoky flavor combined with the spices were just right for my tastes, but the sauce also mixed well with the delicious smokiness.