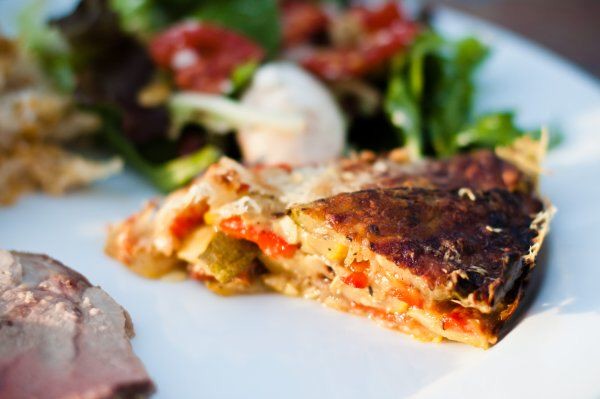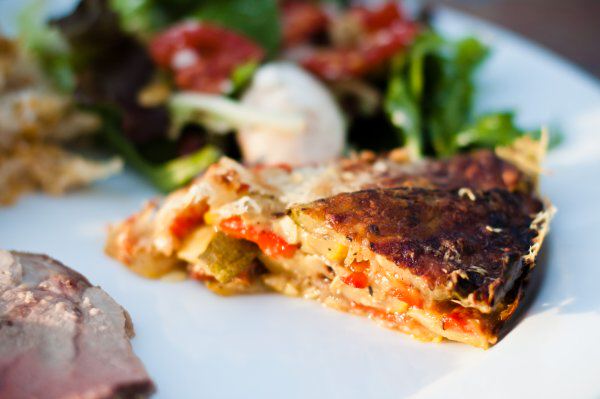 My wife, the vegetarian, rarely gets to benefit from my grilling exploits. You may have noticed, we have a lot more recipes that involve meat than those that don't. So when we go out to eat at one of our favorite restaurants and they have a grilled vegetarian recipe on their menu, you can guess what we're ordering. And if it is good, you can guess who gets to try to reproduce it. In this case we had dinner at 717 South in South Tampa. We ordered their Grilled Vegetable Torte and it was fantastic. I don't think I reproduced it to a T, but this grilled veggie torte recipe is quite good.  It made a great side for me and main course for my wife.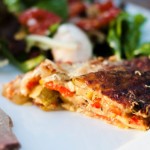 Print Recipe
Grilled Veggie Torte
Lots of vegetables, cheese, breadcrumbs and flavor in this recipe that can serve as a side dish or a main course.
Ingredients
2

Zucchini

medium sized, sliced in long, length-wise strips, 1/8 to 1/4 inch thick

3

Summer squash

sliced in long, length-wise strips, 1/8 to 1/4 inch thick

2

red bell peppers

seeded and sliced into 3 or 4 pieces such that they are as flat as possible

1/2

red onion

peeled and sliced 1/8 inch thick

2

tomatoes

2

cloves garlic

1

teaspoon

salt

1

teaspoon

teaspoon fresh ground pepper

1

cup

Pecorino Romano cheese

fresh grated

1/2

cup

panko bread crumbs

8

ounces

goat cheese crumbles

1/8

cup

olive oil

1/4

cup

reduced balsamic vinegar
Instructions
Slice all the zucchini, squash onion and red bell pepper

Brush with oil then sprinkle with salt and pepper.

Peel and de-seed the tomatoes.  If you don't know what I'm talking about, check out the

video here

.

Peel the garlic cloves. Lightly crush the cloves.

In a bowl, add the tomatoes and garlic and 1/2 of the remaining olive oil and mix. Sprinkle with salt and pepper.

Prepare the grill for direct, medium heat.

Lay the zucchini, squash and bell pepper on the grill.

Grill zucchini and squash about 2 minutes on each side until just tender, but not cooked all the way through and definitely not mushy.

Grill the bell pepper a bit longer, about 4 minutes on each side.

Grill the tomatoes, garlic, and onions until the onions are tender.

Remove all items from the grill and let cool.

Remove the skin from the bell peppers.

Sprinkle a thin layer of the panko bread crumbs, use about 1/3 of the crumbs.

Place a layer of zucchini and squash, using about 1/3 of these.

Spread about 1/3 of the goat cheese over the zucchini/squash layer.

Add a layer of red peppers, onions and tomatoes.

Crush one clove of garlic a spread it over the layer.

Sprinkle 1/4 of the Pecorino Romano cheese over the layer.

Repeat with the remaining ingredients.

End with the remainder of the Pecorino Romano cheese (should be about 1/2 cup) on the top.

Refrigerate for about 1 hour with a weight on top to compress the torte.  I used 2 quart pot half full of water.

Pre-heat oven to 400 degrees (I know, an oven on a grilling site)

Place in the oven for about 30 minutes or until the top is brown and bubbling.

Remove from oven. Drizzle with balsamic reduction and serve hot.