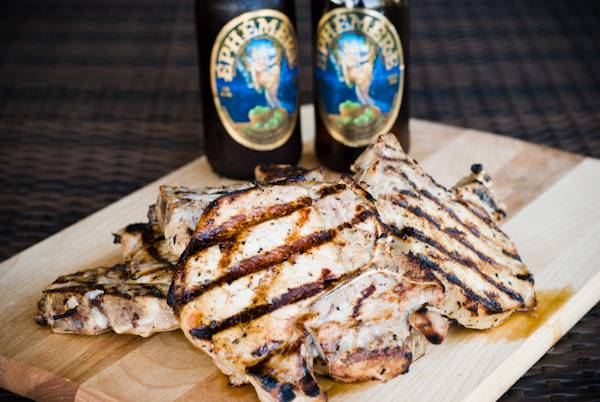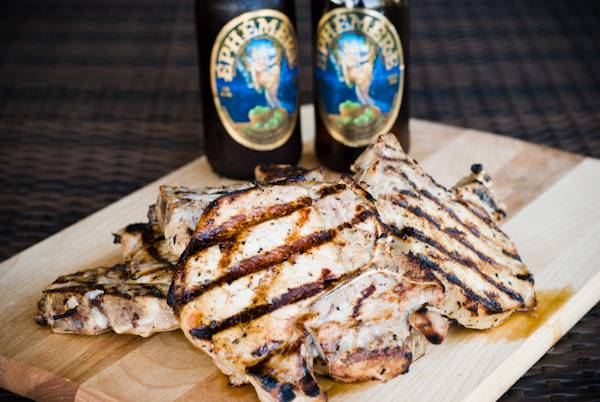 Ephemere Apple Beer Marinated Pork Chops
April 28, 2012
I have somewhere near 0 willpower. This recipe challenges my willpower deficiency in two different ways. First, it is really tough to pour a really good, quality beer into a bag full of raw meat. I mean, it is open, it is cold and it isn't going down my throat? That's crazy talk! Second, the thought of waiting 24 hours to let the meat marinate before throwing it on the grill is maddening. I need instant gratification and when marinating meat that long, I almost forget it is in the refrigerator. So when this recipe came to us, I knew it would be a challenge. It was a little easier in this case given the source, I knew the sacrifices would be rewarded. Bash Wine Cafe is an awesome restaurant in Sunrise, FL. The Miami Herald calls them a "neighborhood gem" and many loyal patrons agree. This recipe was created by Chef Shannon Weiberg and is one of their most popular on the menu. The marinade features a great beer called Ephemere Apple beer by Unibroue. If you are in the Fort Lauderdale area, go check out Bash and tell Jennifer, Veronica and Chef Shannon we said thanks for the recipe!
Prep: 15 mins
Cook: 15 mins
Yields: 6 Servings
Ingredients
6 - 8, 12 oz, bone-in pork chops
1 bottle of Ephemere Apple Beer
1 tablespoon fresh parsley, chopped
1 tablespoon fresh thyme, chopped
Directions
1Whisk all the ingredients (except pork chops, duh) together.
2Place the pork chops in a sealable bag, pour in the marinade and squeeze out as much air as possible before sealing the bag.
3Refrigerate 24 + hours, turning the bag at least once during that time. I know! But it is worth it, just throw some chicken breasts on for tonight.
4Light the grill and preheat to medium.
5Lightly season the marinated pork chops with Kosher salt and course ground black pepper
6Grill the pork chops over medium heat for 4 to 5 minutes on each side or until a meat thermometer registers 140 degrees.
7Serve with the extra beers!
0 Reviews