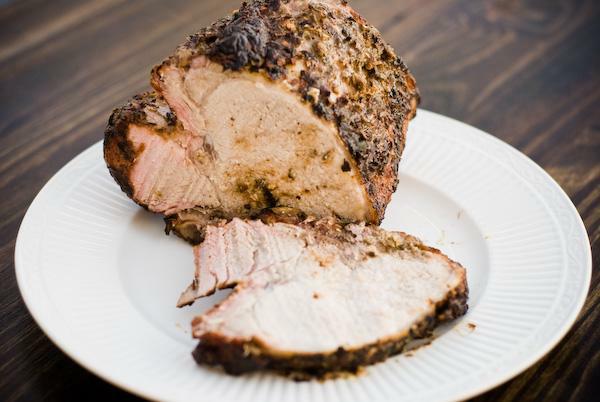 Tonight I mourn the end to these leftovers.  This pork roast was so good, I was tempted to go bury the last slice in the garden.  You see, this pork was so magically delicious that I think it might morph and grow into some sort of super herb under the soil.  Alas, we'll never know, I hadn't even completed my super herb thought before it was swimming in my belly.  At this point, the least I can do is go sprinkle the ashes from the grill used to cook this masterpiece all over the garden as a sign of respect.  Am I exagerating?  I think not.  This is the most delicious pork roast I have ever set a flame to.  The crust created by the dijon, garlic, balsamic and herbs lock in a lot of moisture and compliment this pork well.  Am I overselling this recipe a little?  Perhaps I still have my pork buzz going, but don't you owe it to your grill to give it a shot?  I think so, let's get to it…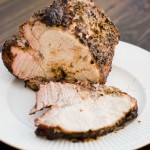 Print Recipe
Dijon and Herb Grilled Pork Roast
Slathered in Dijon and herbs and roast until perfection, this is a wonderful way to cook a pork roast on the grill.
Ingredients
1

Pork Roast

about 2 pounds, I used a pork sirloin roast with bones

4

tablespoons

dijon mustard

2

tablespoons

balsamic vinegar

2

tablespoons

rosemary

fresh chopped

2

tablespoons

garlic

minced

1

tablespoon

thyme

fresh chopped

1

tablespoon

Kosher salt

1

teaspoon

Ground pepper
Instructions
Remove the pork roast from the refrigerator and let warm to room temperature on the counter for about 30 minutes.

Light the grill for indirect

grilling

. If using a charcoal grill, light an entire chimney full of coals and let burn until there is white ash on the top coals.  For a gas grill, light half of the burners to high and leave the other half unlit.

Whisk together the dijon mustard and balsamic vinegar.

Add in the rosemary, garlic and thyme, combine well and then set the mixture aside.

If using a charcoal grill, pile all of the lit coals to once side of the grill and put a drip pan under the grate on the cool side.

Rub the pork roast all over with Kosher salt and fresh ground black pepper.

Sear the pork roast on all sides on the hot part of the grill.

Once the pork roast has been seared on all side, move it over the drip pan on the cool side of the grill.

Smear the mustard, vinegar and herb mixture all over the pork roast.

Close the lid and grill the pork roast until it reaches an inner temperature of about 145 degrees.

Remove the roast from the grill, place on a platter and loosely cover with aluminum foil.

Let the roast rest for about 10 - 15 minutes before carving.  Seriously, leave it alone, let it rest!

Carve slices and serve!