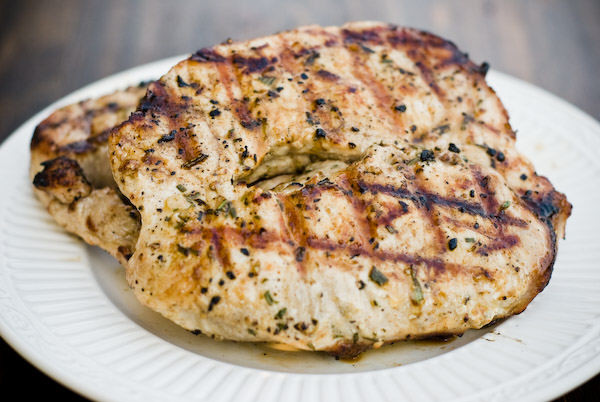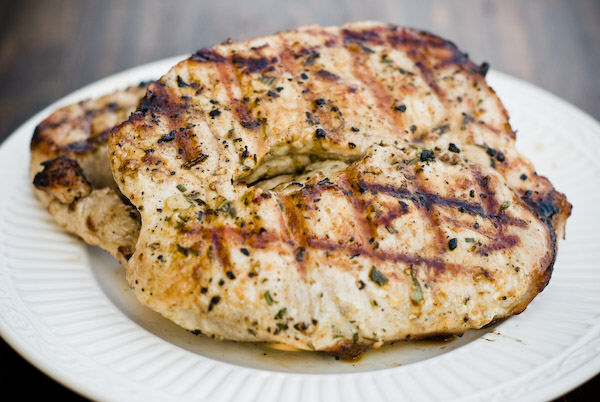 Everyone that knows me or has followed our site knows that I dig on the pig. I love spending weekends smoking Porky's cuts of meat that require an all day commitment, like ribs and boston butt (still love to say that), but one of my favorite week night pork pleasures is the simple pork chop. This lean cut of pork is like a blank canvas to us artists of the open flame. You can get pretty fancy with sauces and marinades, but you can also keep it simple and let the delicious meat shine through. I prefer the latter most week nights because honestly, I just don't plan that far ahead most of the time. This is my current week night go-to simple pork chop recipe because thanks to the rosemary bush that is shading the entire South facing wall of my house, I always have the ingredients on-hand. So thaw out some chops and let's get to it…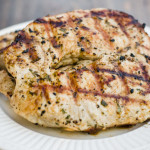 Print Recipe
Grilled Rosemary and Garlic Pork Chops
Big flavor grilled pork chops. But quick and easy to get there. Rosemary and garlic drive this flavor profile.
Ingredients
2

pork chops

3

cloves

garlic

1

tablespoon

fresh rosemary

chopped fine

1/2

cup

Olive oil

1

pinch

Kosher salt

1

pinch

fresh ground black pepper
Instructions
Take the pork chops out of the refrigerator and allow to sit at room temperature for about 20 - 30 minutes.  We want our pork to get nice and warm, so it will cook nice and even!

Crush and then mince the fresh garlic.

Now we want to really break that garlic down to make it nice and potent.  Sprinkle a pinch of the Kosher salt over the garlic and then begin to rub/grind the garlic with the back of your knife.  Don't stop until you start to form a nice paste, here's a visual of what you are looking for:

Combine the rosemary and garlic in a bowl with enough olive oil to cover and combine thoroughly.

Light the grill to medium high heat.

Rub the pork chops with fresh ground black pepper.

Brush the garlic rosemary mixture all over both sides of the pork chops and then place on the grill.  The olive oil is going to cause flare ups and that's a good thing!  If the flare up continues for more than a few continuous seconds at a time, use tongs and move the chops away from the flame.

Continue to grill the chops over direct heat with the lid open, taking care to not let them char too badly.  For chops less than an inch thick, you should only need about 5 minutes per side.  Close the lid for a few minutes if the chops are thicker than 1 inch.  Times vary per temperature of your specific grill, so let the pork tell you when it is done.  Don't overcook though!  Remember, you can always throw those rare chops back onto the grill but you can't inject moisture back into that overdone pork.

Let the pork chops rest for a few minutes before cutting to let the juices redistribute.
Nutrition
Calories:
693
kcal
|
Carbohydrates:
2
g
|
Protein:
29
g
|
Fat:
63
g
|
Saturated Fat:
11
g
|
Cholesterol:
90
mg
|
Sodium:
86
mg
|
Potassium:
518
mg
|
Fiber:
1
g
|
Sugar:
1
g
|
Vitamin A:
29
IU
|
Vitamin C:
1
mg
|
Calcium:
18
mg
|
Iron:
1
mg