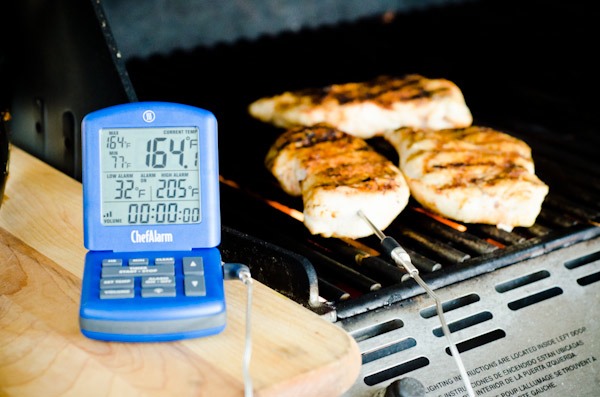 Thermoworks takes the guess work out of cooking, baking and grilling with their amazingly fast and accurate Thermapen. I have been using one for about 2 years now and I still don't even know how to calibrate the thing because it never has failed the ice bath calibration test. So given my love for the Thermapen, I was pretty pumped when Thermoworks sent me their ChefAlarm commercial leave-in style cooking thermometer, plus a whole arsenal of high temp probes that work with the unit. I mention the probes because that has always been the weak spot in this style of thermometer. I have had more wires short out than I care to mention, so I wanted to wait and do my review after I had a chance to put some of the ChefAlarm probes through some pretty harsh conditions.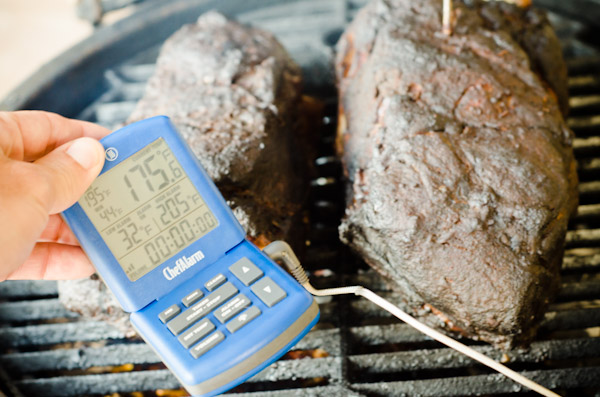 I've had a chance now to cook everything from chicken breasts on the grill to pork butts on the smoker to beef roasts in the oven and the probes are still going strong.  I used to only use these types of probe thermometers with larger cuts like roasts and whole chickens.  With the shorter probe in particular, I now find myself jabbing and leaving them in chicken breasts and steaks.  I can then jump in the pool and just glance over and check on my protein more easily.  As for accuracy, I have compared it with the Thermapen and it is spot-on, which is no surprise coming from Thermoworks.
As for features of the unit, I like to use the high temperature alarm to let me know when it is time to remove my meat from the grill or smoker. For chicken breasts, I just set the high temp alarm for 160 and after I flip the breasts, I just go make my side dishes until I hear the alarm. There are other features like a standard timer, low temperature alarm and a way to calibrate the unit (which I haven't had to do yet). You can set the timer up to 99 hours, which I'm not sure why you would want to, but I thought I would mention it because it sounds impressive in the literature.
The ChefAlarm comes with a nice zippered carrying case and clear instructions on how to work the unit. Also included is 1 pro-series high temp cooking probe. As I mentioned, the probe wire always seem to short out on such thermometers but the included probe's wire is rated to 700 degrees, so I think it will hold up fine, just try not to run the wire across any part of the grill that might get a flare up. You can buy additional probes as shown in the photo. I use the straight probe the most and the high temp air probe with grill grate clip is really nice for monitoring your smoker's temps using an additional ChefAlarm unit.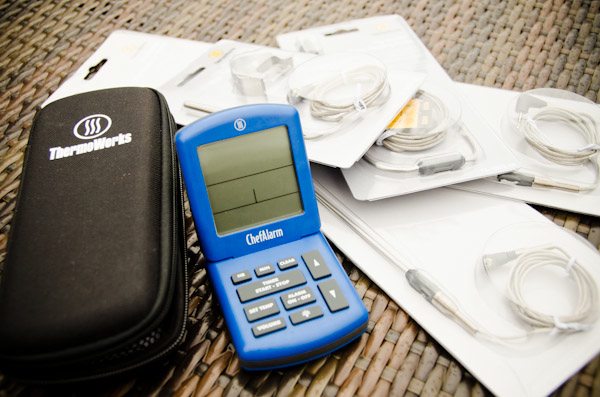 All in all, this is another winner from Thermoworks for me. The feature are really basic, which is a good thing. All I care about is accuracy and reliability of the probes. I'm confident I can count on the ChefAlarm to watch my bird/swine/bovine protein while I work on other parts of the meal or take a dip in the pool.
You can buy the ChefAlarm using this link, which will in turn give us a little bit of a commission to keep this site alive. Thanks in advance!