Update for 2017: This is our original Thermapen review but the new Thermapen MK4 has been out for a while now with new features including fully waterproof, backlight, auto-rotating display and more.  Read our Thermapen MK4 Review here. The light on that thing alone is a reason to upgrade (especially during these really short Winter days, sigh…). I have had both models now (2017) for a few years and can tell you that the Thermapen is well worth the investment. I've left them on the grill in the rain, taken them on many trips and generally abused them and they still work perfectly. I have even checked the calibration using the ice water test and they are both spot-on accurate after all of the abuse.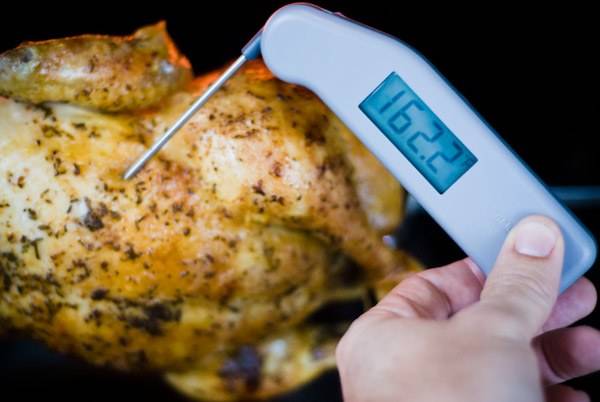 Original Thermapen Review
Ok, I admit it, I am a gadget junkie.  I'm also a cooking-anything-outside-over-an-open-flame junkie. Put those two traits together and you have an idea of where I spend most of my extra cash each month. The Thermapen is a perfect example.  I have seen the Thermapen used by some of my cooking heros like Alton Brown (also a food geek) and always wanted to check one out, so I finally ordered one.  I have put the thing through the paces for the last few months, so it is time to share my experience.
Just reading the literature told me that this thing had the potential to be the only meat thermometer I would ever need. This gadget is splash proof, has a really simple design (no buttons!) and provides an instant and very accurate reading. I was a little concerned about the fact that you couldn't calibrate it, but decided to trust (and test) their claim that it would never need to be calibrated once it left the factory. I can respect the confidence they must have in this product to make such a claim. I have seen other thermometers claim the same thing, but include the ability to calibrate "just in case". How confident are they in their product?  If you really want to test the Thermapen's, or any other meat thermometer's calibration, make sure you follow the correct procedure described here.
I ended up ordering two Thermapens so that Tom and I could independently put them through their paces. First impressions are important and Thermoworks actually packed a few little bags of jelly beans in the package as a thanks for ordering. How cool is that? A few cents worth of jelly beans results in a great way to surprise your customer, brilliant! The packaging for the Thermapen is simple and includes a booklet with instructions. A little overkill, since the product is so easy to use, but everyone likes a manual. Time to put this puppy to the test.
Whole chickens were on sale, so I decided to make a rotisserie chicken as a perfect first test for the Thermapen. Big cuts of meat, like roasts and whole poultry, are difficult to cook perfectly all the way through without a good thermometer. The MeatTemps meat doneness iPhone app (another shameless plug) says that a whole chicken should be 165 degrees. What makes an instant thermometer great is that you can probe your (poor) chicken in many different areas quickly. For example, I have found that the best way to get an idea of the internal temperature is to insert the Thermapen all the way through the chicken breast until I hit bone. I can then back it off an inch and quickly measure the temperature deep into the breast. I can then slowly pull out the Thermapen, instantly checking the temperature throughout the chicken breast. Similarly, I can check the dark meat around the thigh, but if the breast is 165 degrees, she's usually done.
So what's the verdict? As you probably figured out by now, I really recommend the Thermapen. Again, the instant reading it gives you allows you to probe around and ensure that you have a perfectly cooked piece of meat. Is it just for large cuts of meat? No. I used to advocate the "touch" method of feeling thinner cuts of meat like steaks and chicken breasts. This basically entails pushing on the meat. With practice, you can guess the doneness of the meat but why even bother? The Thermapen takes the guess work out of it and allows you to cook your meat to the most desired temperature, without having to guess at it. It is as fool proof as meat temperatures get, so quit reading this and go get one!
By the way, if you a geek like me, you will appreciate the level of geekness Thermoworks puts into testing their thermometers.  Here is a video of their calibration lab in action.