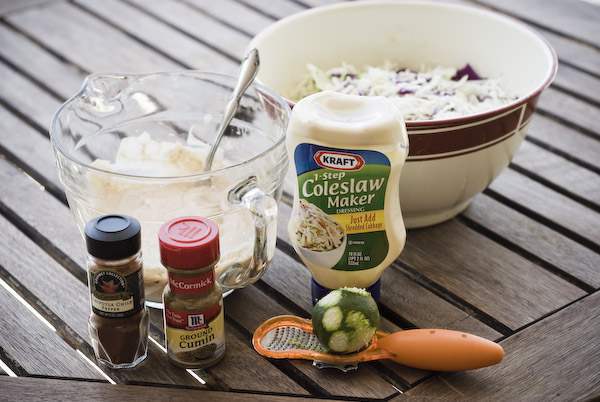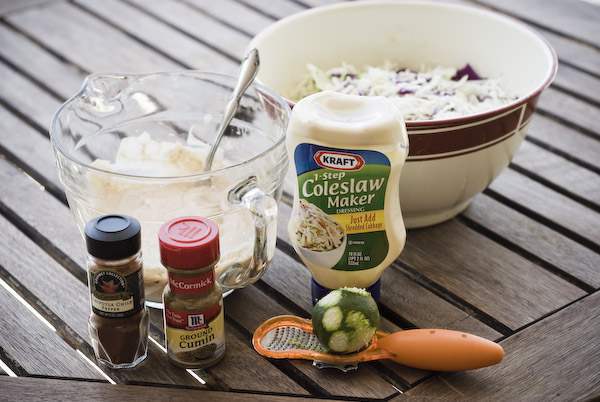 Semi Homemade Coleslaw
May 10, 2009
As you awesome, loyal readers know, we are all about the easy and simple grill recipes here at GC.  It's not that we're lazy (well, maybe a little), it's because we have day jobs and families and it really just isn't realistic to sit around and plan out our grilling.  We like to keep it simple and focus on doing it right.  The same goes for me and side dishes.  Take today for example, it's Mother's Day and we are going over to my brother's house to grill out with the entire family.  My brother is no slouch on the grill himself, so he wants me to just bring side dishes.  For me, that's great, I can sit back and enjoy watching him stress out while trying to produce the perfect grilled steak...
So I grab my main man (my 4 year old co-pilot), convince him that yes, he will get a new toy car if he's good, and head out to the store.  Now I don't know about you, but planning out a recipes while trying to navigate those over-sized car-shaped grocery carts around the store is about impossible.  So in a moment of shear frustration, I grab two heads of cabbage, a few limes and a bottle of the already-made coleslaw dressing.  After 10 minutes of picking out the perfect Hotwheels car and a few more items, we were off.  No crying and I got what I need to contribute to Mother's Day, so job well done so far.
Once we get home, "SpongeBob" makes for a great babysitter when I need to prepare a meal.  It's right about that time, when I start to get everything out from the bags, that I feel somewhat guilty about using store-bought coleslaw dressing.  Is there any need to feel guilty?  In this economy, does it make much sense for me to buy all of these ingredients, use only a fraction of them for my little batch of coleslaw and then throw out the rest in a month when I clean out the refrigerator?  I think not (or at least I have convinced myself not).  That is, not if I put a little extra flavor into that store-bought dressing!
Bottom line is that I think it is perfectly fine to start with store-bought ingredients.  You can make a pretty kick-butt coleslaw dressing with a little creativity and a few spices from the pantry.  My concoction changes just about every time I make coleslaw and I keep telling myself I am going to write it down one day.  Well, today wasn't that day, but I know what I put in there, just not how much.  That's ok, you can do it by taste and be even more creative.  Let's take a look at how I improved that store bought dressing to make some delicious semi homemade coleslaw.
Prep: 15 mins
Cook: 5 mins
Yields: 10 Servings
Directions
1One of the best things my wife has bought me in a long time was a Cuisinart Food Processor.  I use that bad-boy on rubs, marinades, hummus, you name it.  The slicing disk though is a lot of fun to use on stuff lie cabbage, so first run the white and red cabbage through and place in a large bowl.  If you don't have a food processor, cut the cabbage into strips with a knife.
2In a separate bowl, empty the contents of your store bought dressing.
3Now here is where we are going to add ingredients to taste.  Start with adding about a tablespoon of the vinegar and stir well to combine.
4Next, zest the lime into the dressing mixture and combine.
5Start with a teaspoon of cummin and a teaspoon of the chipotle powder and a teaspoon of Kosher salt.  Combine well and then taste.  For more of a "kick", add some more chipotle powder.  For more of a Southwestern flavor, add more cumin.  It's up to you, get creative!
6Now combine your new and improved semi homemade coleslaw dressing with your cabbage and refrigerate for at least an hour to let the flavors mingle!
See, it's not lazy to use store bought dressing to start your homemade coleslaw.  Technically, it is homemade coleslaw, especially if you don't have a food processor and had to cut all of that cabbage by hand!  If you feel guilty, just don't tell anyone.  Tell them you started from scratch and when they ask for ingredients, grab your son as he runs by and tell him to "show Aunt Shelly your new car"...
0 Reviews