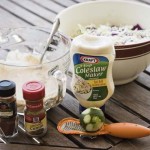 Print Recipe
Semi Homemade Coleslaw
Starting with store-bought ingredients you can make a pretty kick-butt coleslaw dressing with a little creativity and a few spices from the pantry.  My concoction changes just about every time I make coleslaw and I keep telling myself I am going to write it down one day.  Well, today wasn't that day, but I know what I put in there, just not how much.  That's OK, you can do it by taste and be even more creative.  Let's take a look at how I improved that store bought dressing to make some delicious semi homemade coleslaw.
Ingredients
1 White Cabbage

1 Red Cabbage

Vinegar (I like white wine, but whatever you have)

Coleslaw Dressing

Kosher Salt

Ground Cumin

Chipotle Powder

Zest of one lime
Instructions
One of the best things my wife has bought me in a long time was a

Cuisinart Food Processor

.  I use that bad-boy on rubs, marinades, hummus, you name it.  The slicing disk though is a lot of fun to use on stuff lie cabbage, so first run the white and red cabbage through and place in a large bowl.  If you don't have a food processor, cut the cabbage into strips with a knife.

In a separate bowl, empty the contents of your store bought dressing.

Now here is where we are going to add ingredients to taste.  Start with adding about a tablespoon of the vinegar and stir well to combine.

Next, zest the lime into the dressing mixture and combine.

Start with a teaspoon of cummin and a teaspoon of the chipotle powder and a teaspoon of Kosher salt.  Combine well and then taste.  For more of a "kick", add some more chipotle powder.  For more of a Southwestern flavor, add more cumin.  It's up to you, get creative!

Now combine your new and improved semi homemade coleslaw dressing with your cabbage and refrigerate for at least an hour to let the flavors mingle!
Nutrition