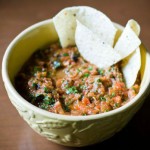 Print Recipe
Grilled and Smoked Salsa with Roasted Pablano and Red Peppers
My wife, obviously delirious from toddle-induced insomnia, decided to challenge me to a salsa competition this morning.  It is Labor Day and we had a cook-out to go to later in the day, so we knew we would have some impartial judges available in the afternoon.  I can't pass up a good challenge, so I had my flip flops on and was out the door to the vegetable stand before she was done with her coffee.  It's on! My wife makes a delicious fresh salsa, so I knew I couldn't compete unless I came with something a little different.  Being the grilling fanatic that I am, I decided to smoke my ingredients on the grill.  It's 199 degrees outside, so why not stand around a hot grill?  I must be crazy.  Anyway, I have roasted tomatoes in the oven before and made great tomato sauce, but this is the first time I have attempted to roast tomatoes on the grill.  I decided to also rig up a little smoking setup using my
Weber vegetable basket
to get some great flavor quickly from the smoke.  By using two bricks, I was able to roast the tomatoes and peppers over a smoke pouch.  The results were awesome and having the vegetables directly over the smoke really allowed me to get some great flavor in a relatively short amount of time (in smoking terms).  Here's a photo of the setup, it's not pretty, but it works: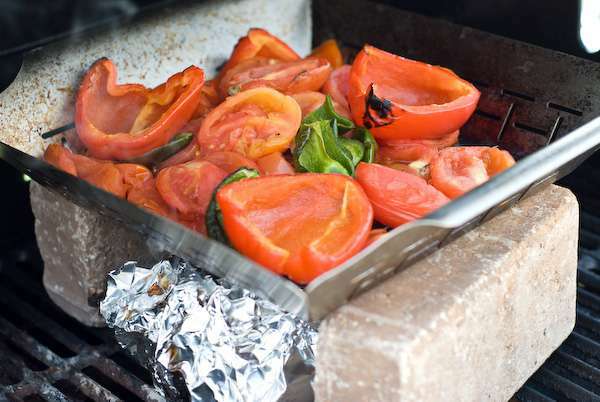 Just a little warning before I get started with the "how".  This salsa is a little spicy.  Feel free to cut back on the peppers if you prefer a more mild salsa.  Sugar can always be used to cut the heat a little, just be sure to counter-balance with a little salt if it starts to get too sweet.
Ingredients
12 plum tomatoes

1 Red bell pepper

1 Jalapeno pepper (1/2 of a pepper if you are scared...)

1 - 2 Pablano peppers (how hot do you want it?)

1 handful of fresh cilantro

Zest from 1 lime

Juice from 1 lime

1 teaspoon Kosher salt

2 teaspoons ground cumin

1 teaspoon sugar (cuts the acidity)
Instructions
How to Make a Great Salsa on the Grill

Wash the tomatoes, cut them in half and then remove the seeds with a small spoon.

Cut the peppers in half and remove their seeds as well.

Fire up the grill on high and place the smoke pouch on the hottest part of the grill, close the lid.

Once the smoke pouch is smoking, turn off the middle burner(s) and set the grill up for roasting, similar to what is shown above.  The key here is to get the vegetables up into the smoke from the smoke pouch, over the cooler part of the grill.  We are going to roast and smoke the vegetables at about 350 degrees.

Place the tomatoes and peppers cut side up on the basket and close the lid.

Roast the vegetables for about an hour at around 350 degrees.  Turn the vegetables every 15 minutes or so to evenly roast the vegetables.  Times may vary, but we want to blister the skins of the peppers and tomatoes.

Once the tomatoes and peppers have been charred (again, about an hour), remove them from the grill and allow to cool.

Peel the skins off of the red bell peppers.

Place all ingredients in a food processor and pulse to chop to your desired consistency.