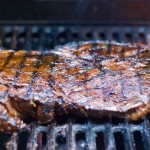 Print Recipe
Marinating Steak
When using less expensive cuts of beef, marinating steaks is the way to improve the results. Not only does it add flavor, it tenderizes as well. This simple recipe of some common ingredients flavors up the cheaper cuts of steak and takes them to the next level.
Ingredients
2 pounds Sirloin steaks

4 tablespoons Paprika

5 tablespoons Balsamic vinegar

1/2 cups dark brown sugar

1/2 teaspoon(ish) black pepper

1/5 tablespoon Kosher salt

1/2 teaspoon Chipotle powder

5 cloves garlic, minced

1/4 cup fresh rosemary, finely chopped
Instructions
Mix all of the ingredients together in a small bowl.

Place the sirloins in a shallow baking dish and pour in the marinade, turn the steaks a few times to coat.

Place the steaks in the refrigerator and marinade for at least an hour.

About 30 minutes before cooking, remove the marinating steaks from the refrigerator and place the dish on the counter to warm up. Remember, we always want to grill our steaks after they have been allowed to sit for about 30 minutes at room temperature. This helps them cook evenly.

Light the grill on high for direct grilling.

Once the grill is hot, use tongs to remove the steaks from the marinade and place on the hottest part of the grill.

Grill for about 4 minutes (times will vary, based on how thick the steaks are and how well you like them cooked) and then rotate 90 degrees to produce the grilling marks that make us look like we know what we are doing.

After an additional 3 minutes or so, flip the steaks over with your tongs.

Rotate again after 4 minutes for the grill marks.

After about 4 more minutes, check for doneness. We discussed this in our grilled steak post, but you never want to cut into a steak to test for doneness. With a little practice, you will be able to tell just by pushing on the steak. A rare steak is pretty mushy and it gets more and more firm as it cooks through.

Remove the sirloins from the grill and place on a platter. Allow the steaks for rest for about 5 minutes to let the juices redistribute.
Nutrition