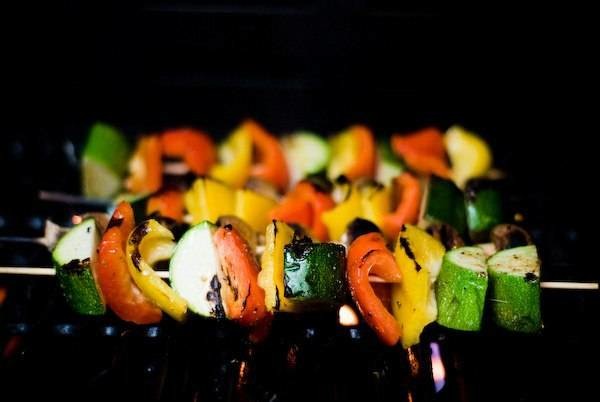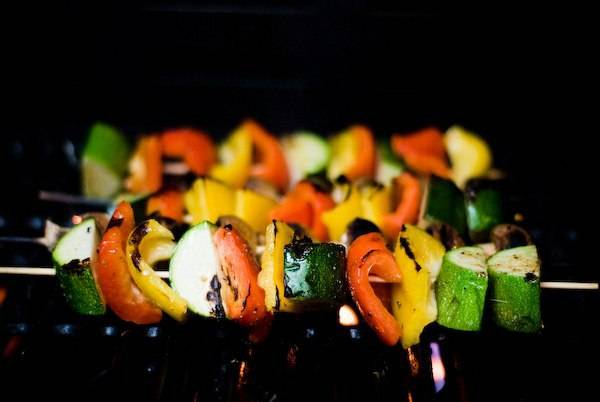 Here is a easy marinated grilled vegetables recipe that everyone will enjoy. The great thing about this recipe is it's flexibility. We recommend our favorite grilled vegetable combination below, but feel free to go with whatever vegetables look good when you are in your produce section. The only qualification is that they stay on a skewer!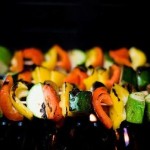 Print Recipe
Grilled Vegetables
An easy marinated grilled vegetables recipe that everyone will enjoy.
Ingredients
Marinade Ingredients:
1

cup

soy sauce

1/4

cup

Balsamic vinegar

1

tablespoon

honey

2

tablespoons

olive oil

1

tablespoon

dried thyme

1

teaspoon

black pepper
Recommended Vegetables:
Red Pepper

Yellow Pepper

Green Pepper

Red Onion

White Mushrooms

Zucchini
Materials:
Wood Skewers

Large (gallon size) Ziplock-type bag
Instructions
Soak the wood skewers in a bowl of water for at least 30 minutes.

Cut up all of the vegetables (except for the mushrooms) into roughly 1 - 2 inch squared pieces. The zucchini will be the slowest cooker, so make sure you keep the slices about a half inch thick. Leave the mushrooms whole.

Transfer the cut vegetables into the large ziplock bag.

Whisk all of the marinade ingredients together in a bowl and poor into the bag.

Close the bag until there is about an inch opening and then squeeze as much air out of the bag as possible before closing all of the way.

Leave the vegetables to marinade for at least 30 - 45 minutes at room temperature, up to a few hours.

After the vegetables have had time to marinade, poor the marinade into a bowl to brush onto the vegetables during grilling.

Remove the vegetables from the bag and place the pieces on the skewer. Mix the vegetables to create a pleasing mixture of colors and flavors.

Before lighting the grill, make sure your grates are cleaned thoroughly.

Light your grill for direct grilling over medium-high heat.

Place the vegetables on the grill and grill for about 5 minutes (we are direct grilling here, leave the hood open).

Lift each skewer and turn a quarter of a turn and place back on the grill, brush each skewer of vegetables with the marinade.

Continue to lift, turn and brush with marinade every 4 - 5 minutes or so until the vegetables are cooked. You can test the vegetables to see if they are done by cutting off a zucchini on each skewer. If the zucchini is cooked, the rest of the vegetables on the skewer are done as well.
These vegetables go great with a nice grilled new york strip, grilled pork chops or filet mignon. Serve and enjoy!
Update! If you haven't checked out our review of the Weber grill basket, you should. It saves the time of all that skewering, and still gives the same delicious results.