I have tried quite a few grill baskets over the years, and I have to say, none compare to the Weber Professional-Grade Vegetable Basket that I recently bought.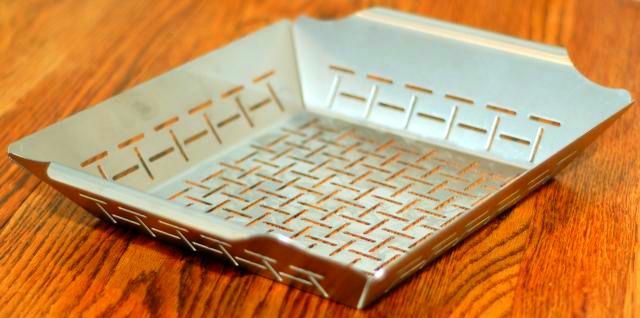 Some baskets have wood handles, so the handle has to stick out of the grill and always caused me trouble. Others are not stainless, but instead have a non-stick coating that just doesn't hold up in the high heat of a grill. Eventually you wind up with bits of non-stick stuck to your grill grub.
But the Weber grill basket is heavy-duty stainless steel (430 grade for those of you that know your stainless steel grades). If you aren't playing home gourmet and just need to grill up some quick dinner after work, you can use your Cuisinart Food Processor to slice up some zucchini, summer squash, onions, peppers and mushrooms (eggplant is always optional), slather them in your favorite marinade, and dump them into the basket. No need to do the time consuming skewering of each and every veggie. And having them together in the basket lets the flavors mingle.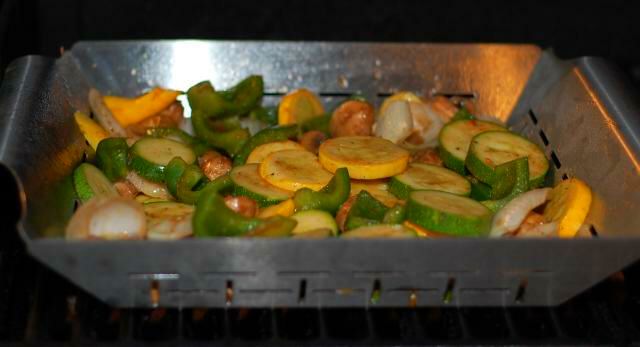 The high, sturdy sides of the basket let you stir the veggies for even cooking without any crazy squash jumping to an untimely veggie death in the flames of your grill. I find that if I use a high smoke point oil like peanut oil in the marinade, the veggies are less likely to stick. The slots in the basket are big enough to let the heat through, but small enough to keep contents from falling through.
Clean up is a snap. It likely won't get back to that shiny, new stainless look it had when it came out of the box, but a bit of soap and water and a dish brush is all I use. It says it is dishwasher safe, but I suspect that will deteriorate the shine a bit more.
The basket is 11 3/4 inches by 11 3/4 inches working area (not including the handles which add an inch on 2 of the sides). It takes up a bit of space on the grill, but is 2 1/4″ deep so it provides enough room for a good amount of veggies.
Though I haven't tried it yet, I think it will also work as a great tool for grilling flakey white fish that might otherwise fall through the grates.  I'll post an update and let you know when I grill some grouper.  We'll keep an eye out for other grilling recipes that would be suitable for the grill basket.
Conclusion: I can highly recommend this grill basket as an addition to your grilling arsenel.   At only $19.99 on Amazon, it is hard to find a better basket.