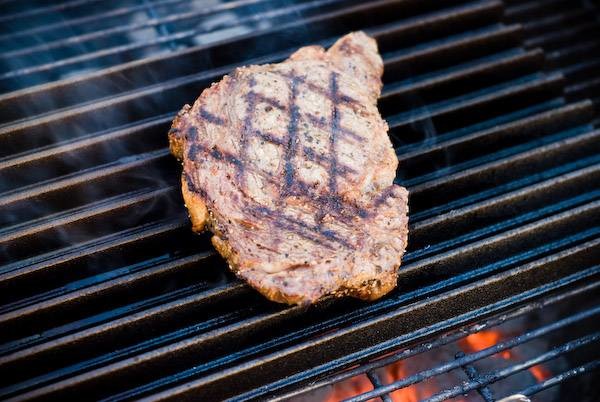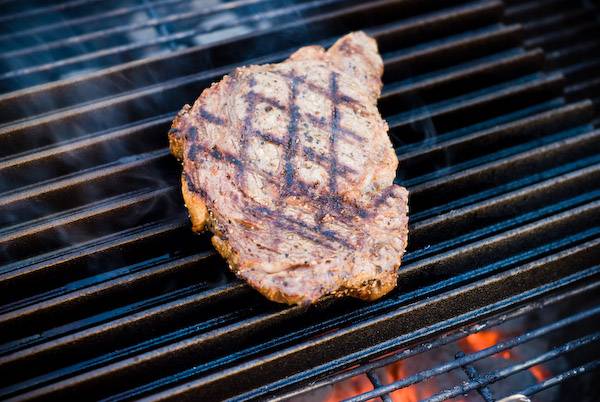 Kosher salt, fresh ground black pepper, medium rare…no need to over-think this one.   You bought this delicious hunk of meat, now your job is to not screw it up!  Rib eye steaks are a pretty forgiving cut of meat, believe it or not.  The fat marbling contained in a ribeye steak makes for a very flavorful and juicy steak without a lot of effort.  When buying ribeyes, I like to skip the shelves and go straight to the butcher's counter to get a steak that is an inch to an inch and a half thick.  Thicker steaks allow you to create a great crust on the outside while cooking them to a perfect medium-rare on the inside (you wouldn't ruin that nice steak by over-cooking to well-done, would you??).  The biggest thing to keep in mind when grilling steak is that you can always throw it back on the grill if it isn't done enough, but you can't reverse an over-cooked steak.  So err on the side of rare and sear that steer over high heat.  Let's get to it.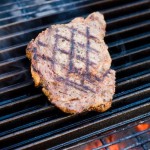 Print Recipe
Grilled Ribeye Steak
Simple grilled ribeye. A favorite steak for people that love the flavor of steak. Not as tender as a filet mignon, but still quite tender.
Ingredients
2

Ribeye steaks, at least an 1.5 inches thick

2

teaspoon

olive oil

1-2

pinches

Kosher salt

2-3

grinds

Fresh ground black pepper
Instructions
Preheat your grill to high heat.  If you have a sear station or sear burner, get that puppy going too.  If you have a sear burner and a steak that is over an inch thick, get one side of the grill (opposite the sear burner) going at about medium-high in case we need to cook it through a little more after the sear.

Remove the rib eye steaks from their packaging and rub them down with some olive oil and then coat a generous amount of Kosher salt and freshly ground black pepper.  The olive oil provides just enough fat to help the salt and pepper create a great, caramelized crust.

Clean and lubricate your grill grates with some cooking oil on a rolled up piece of paper towel (using tongs, of course).

Place the rib eye steaks on the hottest part of the grill (or your sear burner) and then stand ready with the tongs.

At this point, you are on flare-up watch.  The fat dripping off of those beautiful steaks is bound to create a flare-up.  If a flare-up occurs and doesn't go away in a few seconds, simply use your tongs to slide the steaks away from the open flame until the flame dies down and then move then back over the heat.

Continue to grill with the lid open for about 4 - 6 minutes.

Flip the steaks over onto the other side, still over the hottest part of the grill.

Grill the rib eye steaks for an additional 4 - 6 minutes on the other side, lid open, for a medium-rare delicious steak.

Remove the steaks from the grill and allow to rest for 5 minutes before serving.  The resting period is important so that the juices don't run out when you cut into the ribeye, so be patient!