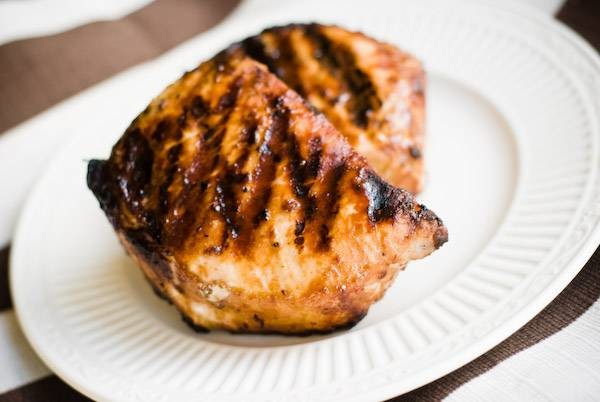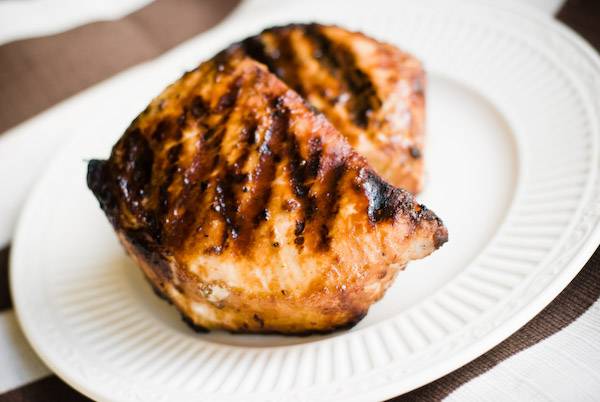 Who knew peanut butter and soy sauce would make such an awesome combination?  To be fair, peanut butter was probably not around at the time this sauce was invented in China.  According to Wikipedia (yeah, I research this sort of thing, I am a geek) traditional hoisin sauce is made with soybean paste, garlic and vinegar, but this is a much easier recipe.  Here's another fact you can use to impress your next cookout guests.  The word "hoisin" is a romanization of the Chinese word for "seafood".  Maybe I am confusing things since we are talking about pork chops this week, so let's just say that "hoisin" translates to "delicious pork chop" and get on with the show.  These ingredients and amounts listed below are enough for the marinade, but I suggest making a little extra for dipping while you are at it.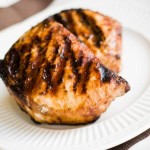 Print Recipe
Grilled Hoisin Marinated Pork Chops
Soy sauce with peanut butter? Yep, a great base for a sauce to marinate your pork chops with. Delicious nutty, salty, moist pork chops on the grill.
Ingredients
4 to 8

bone-in or boneless pork chops

1/2

cup

soy sauce

2

tablespoons

creamy peanut butter

2

teaspoons

rice vinegar

2

cloves garlic

minced

1

teaspoons

sesame oil

1/2

teaspoons

hot sauce
Instructions
Mix all of the marinade ingredients together in a bowl and combine until smooth.  It may not seem like it at first, but the peanut butter will eventually thin out and mix together with the soy sauce, just keep working it. You can double the recipe and set half aside if you want dipping sauce.

Place the pork chops in a sealable bag and then pour in the marinade, squeezing out as much air as possible before sealing the bag.

Place the pork chops in the refrigerator and marinate for at least 8 hours.  For thicker pork chops (like I prefer), I like to let them marinate over night.

Preheat the grill to high heat.  If your pork chops are over an inch thick (yummy!), light one side of the grill to high heat and leave another side at about medium.  For you charcoal grillers, just pile the coals on one side and taper to about 1 coal high on the cooler side.

Remove the pork chops from the hoisin marinade, hit them with some fresh ground black pepper if you like and place on the hottest part of the grill.

Sear the hoisin pork chops on each side for about 3 - 4 minutes.

After 3 - 4 minutes, your thinner pork chops might be done.  Test them with a

thermometer

to make sure, you want to remove them from the grill when the pork chops get to around 140 degrees.

If your pork chops are more than an inch thick, move them at this point to the cooler side of the grill and close the lid.  They will need another 3 - 4 minutes per side to reach 140 degrees on your

instant-read thermometer

.

Let the hoisin pork chops rest on a platter for a few minutes before serving.  Serve with the extra dipping sauce!