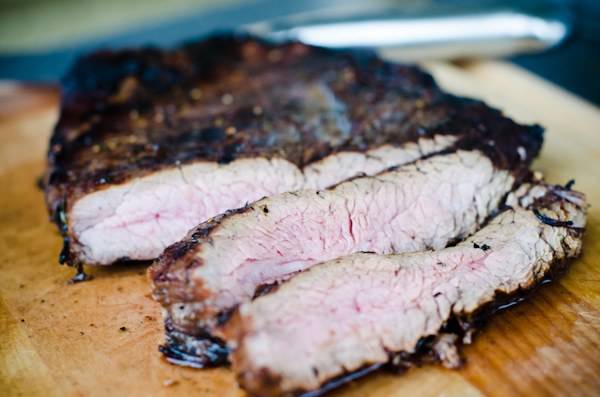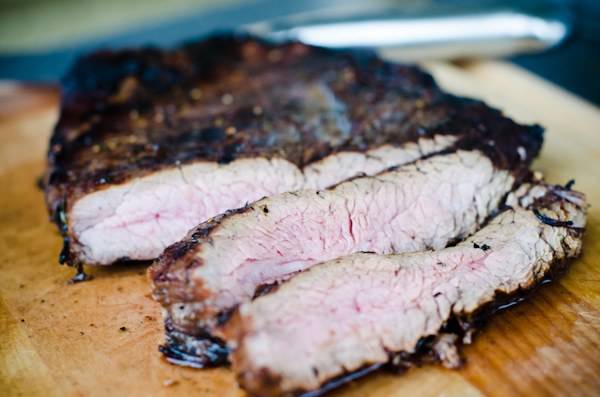 Flank Steak Recipe
October 7, 2008
Flank steak gets a bad rap.  I am guilty of it, I would never give it the time of day on the meat aisle until recently.  That is until I tried some really great fajitas at a local Mexican restaurant.  There was something different about this steak and I needed to figure it out.  No one, including the waitress, spoke a great deal of English, but the secret was clear, marinade!  Unlike filet mignon or perhaps even new york strip, flank steak needs a little more help in the flavor department.  The wait staff wouldn't give away any secrets to the exact ingredients,  but after a few failed attempts (my dog's best days so far), I struck grilled flank steak gold.  Without further ado, I present the "secret" marinade:
Directions
1Place all of the ingredients into a food processor.  Pulse until all of the solids are well blended.  The marinade should be pretty thick, but you can add some more olive oil if it's too thick to pour.  Place the flank steak in a casserole (or other glass) dish and pour in the marinade.  Let the meat marinade on the counter for up to 45 minutes (anything longer than 45 minutes should be in the refrigerator, but bringing the steak to room temperature before grilling helps with even cooking).
2In the meantime, fire up your grill for high direct heat.  After the steak has marinated for at least 30 minutes, place it on the grill.  Grill for 2 minutes and then rotate 45 degrees to create those grill marks.  After 2 more minutes (4 - 5 minutes total per side), flip the flank steak over.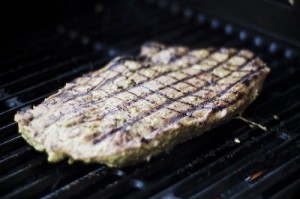 1After grilling 2 minutes on the new side, again rotate 45 degrees.  Grill for an additional 2 to 3 minutes and remove from the grill.  As always with meat, let the steak rest for a few minutes before you cut into it.
2IMPORTANT! Here is the important part when dealing with grilled flank steak.  You MUST cut the steak against the grain or the steak will be too chewy.  If you pick up the steak with some tongs, the grain will become obvious, as shown in this photo: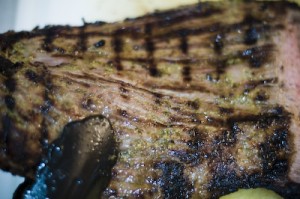 1This photo will show the proper way to cut against the grain, make sure you cut some nice thin strips for maximum tenderness.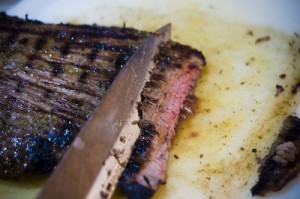 1Now that you have these great strips of steak, we need something to build into a meal!  Round up some grilled onions, your favorite peppers and some homemade guacamole.  Toast a few flour tortillas, pile on the ingredients and roll them up for some great grilled flank steak fajitas!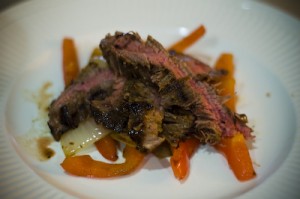 This recipe also makes a great filler for quesadillas.  We recently turned our grill into a pizza oven by ordering a VillaWare Pizza Grill from Amazon.  Check out our detailed review and see how this accessory helped us make quesadillas on the grill.  Instead of chicken, use this flank steak for some awesome quesadillas!
1 Review