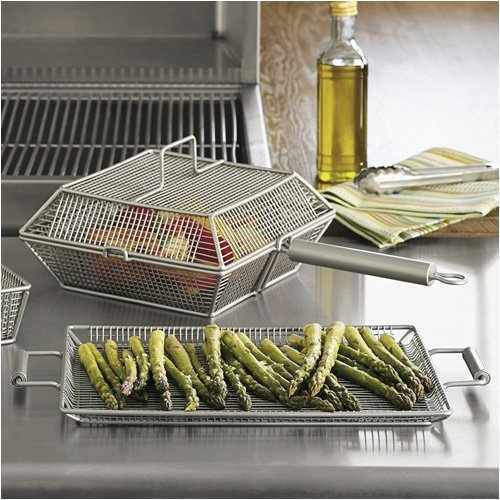 This set of grilling baskets and tray with lidded shaker
on Amazon has me pretty excited.  This set comes with a smaller tray for grilling items you don't want to fall through the grate, I could live without that tray, but it comes with the set.  I would seriously pay $25 for the lidded basket alone.  I love my Weber grill basket, but it falls short in two areas for me.  For one, I have to put on 2 oven mitts to remove the thing from the grill.  The lidded set pictured above has a handle so even if it gets hot, that's only one mitt I need to wear.  The coolest part though is that there is a locking lid.  No longer will I have to use a spatula to move those little potatoes, shrimp or whatever around while grilling.  I can just grab the handle (with my one mitt) and give her a shake!  No more grilled foods going MIA in the bottom of the grill!  I also love the fact that there is little surface area to clean and look dirty.  The Weber basket looked great, right up until my first grilling.  It's a little hard to clean and scratches easily.
I'm heading over to Amazon to pick one of these up today!