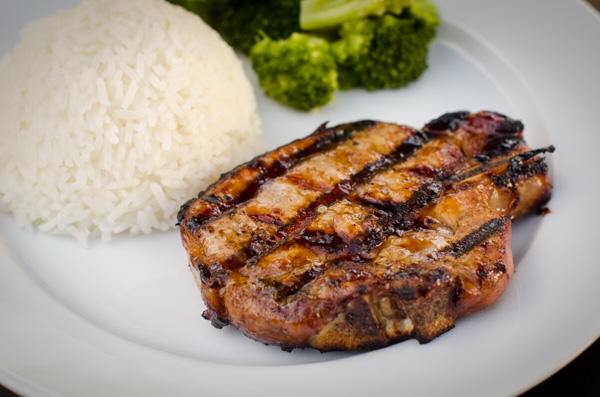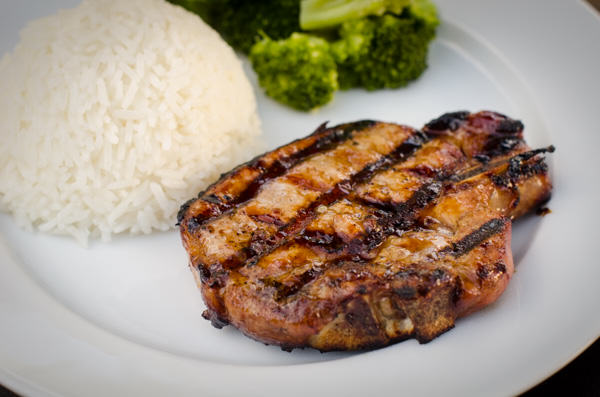 Teriyaki is the name of a cooking style that involves grilling or broiling food with Teriyaki sauce, according to Wikipedia. According to me and my kids, Teriyaki is grilling deliciousness. And one of my favorite ways to cook a pork chop is a Teriyaki pork chop. The salty, sweet flavor of the soy sauce and the sugar go so well with pork.
One word of caution, with the sugar in the Teriyaki sauce, the sugar will tend to carmelize and burn on the pork chop quicker than the chop will be done. I recommend marinating with a thinner version of the Teriyaki sauce, then grilling part way before basting with the thicker sauce.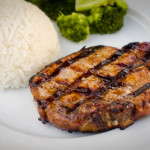 Print Recipe
Grilled Teriyaki Pork Chop
Pork chop marinated with a thin teriyaki sauce, then basted with a thicker sauce while grilling
Instructions
Marinade the pork chops in a shallow dish that allows the chops to be in one layer. Use the thin Teriyaki sauce. Cover and place in the refrigerator for 1 to 24 hours.

Light the grill for indirect cooking. If you are using a gas grill, light half of the burners to medium high and leave the others off. If you are using charcoal, spread the lit coals in one layer on one side of the grill. This gives you a space to move the chops in the event of flare ups from dripping fat.

Grill on direct heat, with open lid for about 4 minutes, then flip the chop.

Baste the cooked side with the thick Teriyaki sauce and cook for 3 minutes.

Flip and baste. Cook for about 2 to 3 more minutes on each side, basting on each flip. For best results, use an instant read thermometer and cook to 140°F. If you are cooking thinner chops, the time will be about 5 minutes per side total.

Remove from the grill and let rest for 5 minutes.
Nutrition