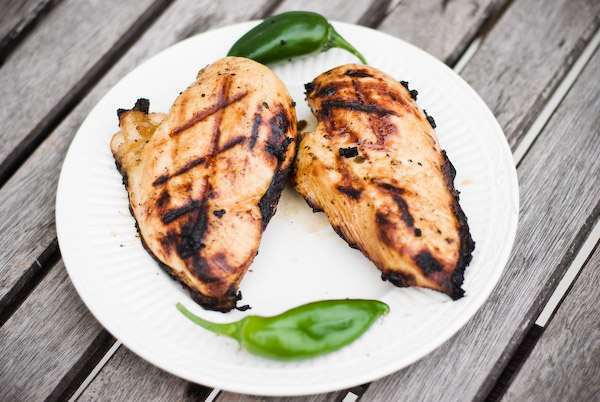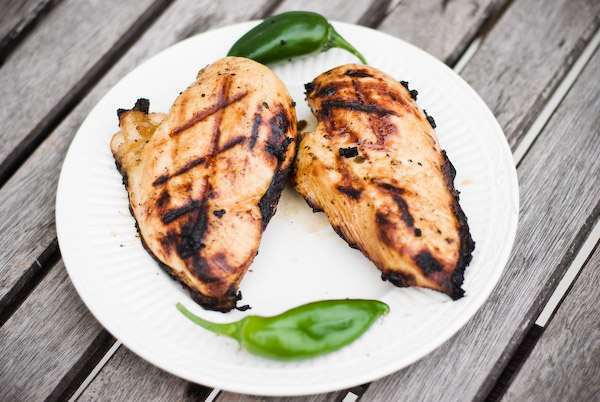 Marinated Chicken Breasts with Sesame, Soy, Lime and Jalapeno
December 6, 2009
I just recently discovered what has become one of my favorite ingredients (for now), sesame oil.  Sesame oil can be found in the Asian section of most grocery stores.  This little nutty wonder of an oil adds a distinct flavor to foods. Used mostly in stir fry ingredients, I have found that I like to add a little to some of my marinades as well.  This particular marinade has more than a little, it actually features my favorite oily friend on lead vocals and the flavor really comes through in the end product.  I love really potent marinades like this because I can add a lot of great flavor in under an hour of marinating, no need to plan ahead and marinate over night.  I think the jalapenos are actually optional.  The lime, soy and sesame oil is so strong that I can't really taste the jalapenos.  I may play with the ratios at some point, or leave the peppers out altogether.  I have to mention them here since I already took the photos with the peppers from my garden!
Directions
1Mix all of the marinade ingredients together and place in a non-reactive (glass) dish just big enough for the breasts.
2Pour in the marinade and turn to the breasts to make sure they are covered.
3Allow to marinade for 45 minutes, turning the breasts over half way through (yes, at 22:30, exactly).
4Preheat the grill to medium.
5Place the breasts onto the grill and grill over medium heat, with the lid closed, for about 8 minutes per side.  NOTE: times vary, depending on your grill temperature and thickness of the breasts, obviously.
6 Once cooked, remove the chicken breasts from the grill and allow to rest for at least 5 minutes.
7 Serve and enjoy!
Grab a little bottle of sesame oil and start playing around with this great ingredient.  I think you'll find the nutty flavor adds something special to a lot of recipes.
1 Review