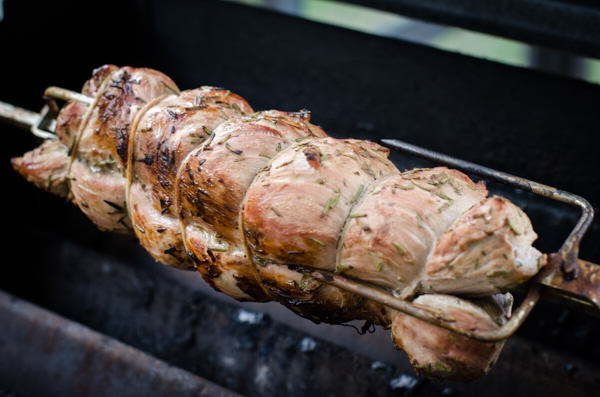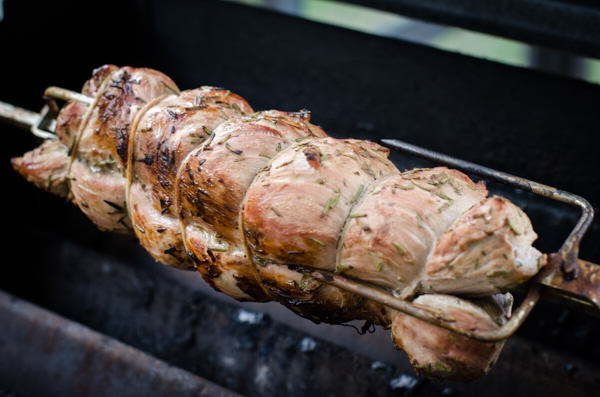 Rotisserie Pork Tenderloin
March 22, 2015
I like gadgets.  Especially gadgets that help make delicious pork tenderloin over an outdoor fire.  Rotisserie pork tenderloin isn't tons better than just slapping the tenderloin straight on the grill, but it is a touch better.  And after a bit a prep work to tie the pork tenderloins (there are two parts here) to the rotisserie without it sliding around as it rotates, it is worth the time it frees up to have a few beers while you are waiting for it to finish cooking.  Cook this to an internal temperature of 140 degrees and you'll have a moist, tender and delicious pork tenderloin.
Directions
1Mix the mustard, wine, garlic, rosemary and pepper.
2Marinade the pork tenderloin in the sauce for an hour or more, up to 6 hours, in the refrigerator.
3Using butchers twine, tie the pork tenderloin to the rotisserie skewer securely.  I laid one half on top of several pieces of twine, then put the skewer on top of that, then the other half of the loin on top of that.  Have the fat end of the one half of the loin match of with the skinny end of the other half so you wind up with even thickness all around.  Snug the prongs up to or into the loin to keep it from spinning on the skewer, then tie it down tight with the twine.  (see the picture above to get the idea).  Cut off any loose pieces of twine so it doesn't burn.
4Prep the grill for the rotisserie, removing grates if you need to. Preheat to high, direct, as initially you will want to sear the meat to a nice golden brown.
5Put the tied up tenderloin on the rotisserie and start it spinning.  Cook on high, direct heat with lid open for about 5 to 10 minutes until you have a golden brown crust.
6Reduce the heat and go with a medium high, indirect heat for the remainder of the time, lid closed.
7Start checking the temperature after 10 minutes, and remove from the grill when it reaches an internal temp of 140.  On my grill it took 14 minutes, but this will vary widely based on your grill and the size of the tenderloin. If your grill runs hot, or it is a small tenderloin, check it before the 10 minute mark just to be sure.  Best to use a good instant read thermometer.
8After you remove from the grill, be sure to let the roast rest for about 10 minutes.  Cover in foil, then with a towel to keep it from cooling off too much.  This resting period prior to cutting keeps the juices from spilling out when you slice it and will result in a very moist slice of pork.
3 Reviews