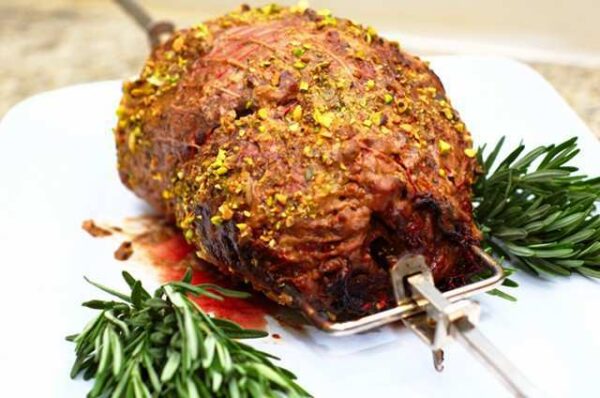 I chose leg of lamb for this meal because I wanted to grill something fancy for Christmas Eve, and my sister was already planning on standing rib roast for Christmas day. Not much fancier than standing rib roast, but leg of lamb makes a close second.  I found a New Zealand boneless leg of lamb at my local grocery store, butterflied and rolled, wrapped in a mesh, just begging to be thrown on the rotisserie.  So I got the remainder of the ingredients and prepared to make a meal to impress my family.  In this recipe I made a pistachio and mustard encrusted boneless leg of lamb, rotisserie style.
If you don't have a rotisserie, this recipe is reason enough to get one. The lamb turned out perfect and was the best I've ever had. The complements were non-stop. Here it the model I have, Weber 9890 Gas Barbecue Rotisserie. If you have a char-broil, there is this one. And this is a generic one that is supposed to fit many types of grills.
During this process, I learned it is good to have more than one thermometer. My instant read thermometer decided to go on the fritz about an hour and a half into cooking, leaving me with an old school meat thermometer and the thermometer from my turkey fryer. Nearly flying blind! Fortunately I got lucky and it turned out perfect. I've since bought this thermometer and this one as a backup.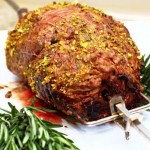 Print Recipe
Leg of Lamb Recipe
I found a New Zealand boneless leg of lamb at my local grocery store, butterflied and rolled, wrapped in a mesh, just begging to be thrown on the rotisserie.
Ingredients
4.5

lbs

boneless leg of lamb  

1 1/2

cups

Dijon mustard

6

tablespoons

red wine

6

cloves of garlic

minced

2

teaspoons

fresh rosemary

chopped (I use kitchen scissors)

1

teaspoon

ground pepper

fresh

1

cup

pistachios

chopped
Instructions
First I removed the lamb from the bag and rinsed.  The leg of lamb I bought was already de-boned butterflied, and rolled in a mesh.  But if you can't find one already prepared like this, you can ask you butcher to prepare a leg of lamb for you or remove the bone yourself.  Once rinsed, skewer the lamb and make sure it is secure.  Balance the skewer according to your manufactures directions.  Let the lamb come to room temperature as you prepare the other ingredients.

To prepare the mustard mixture, in a large bowl, add the Dijon mustard, red wine, garlic, rosemary, and pepper and mix thoroughly.  Divide the mixture in half and set aside one half.  Slather the lamb in the mustard mix.  Anything that drips off you can add after you get the lamb going on the grill.

Prepare your grill for the rotisserie.  I remove my grates to give more clearance.  Heat the grill on high.  Once nice and hot, about 8 minutes on my grill add the lamb and start the rotisserie turning.  Reslather any of the mixture from the initial slathering that ran off the lamb (hopefully you had a plate under the lamb).

With an open lid, roast on high for 10 to 15 minutes until you have a golden brown crust on the lamb.

Now it's time to slow things down.  I turned off my center burner and left on my front and back burner on low.  Add a pan of water under the lamb, with just enough water to cover the bottom of the pan.  Reduce the temperature down to low, about 300 to 325° F.  If your grill has left, right and center zones, turn off the zone that is directly under your lamb.  If you have charcoal, you'll need to rearrange the coals so they are not directly under the lamb.  The pan of water will catch drippings which prevent flareups, regulate the temperature and will help keep the meat moist.

As usual, the amount of time you have to cook the lamb will vary greatly depending on the size of the lamb, your grill, and numerous other factors.  Mine took about 2 hours (about 1/2 hour per pound @ 325° F).  When the internal temperature gets to 145° F (for medium rare), turn off the grill and carefully remove the pan of water.

Slather the lamb with the remaining mustard.  Relight the grill, and put it on medium high, with the middle burner going again.  We want some direct heat to get the crust back on the lamb (you'll find that the steam from pan of water may have caused your crust to drip off).  After about a minute, add the chopped pistachios.  I used a spoon to press them into the mustard and get them to stick, slowly rotating the lamb as I did this.

Cook for another 10 minutes until the crust is brown and crispy.

Remove from the grill.

While it is resting for 10 minutes, take lots of pictures until you get one that looks just right.  Well, that's what I did anyway.

Then carve it up and serve.
Nutrition
Calories:
2696
kcal
|
Carbohydrates:
63
g
|
Protein:
307
g
|
Fat:
129
g
|
Saturated Fat:
29
g
|
Trans Fat:
1
g
|
Cholesterol:
823
mg
|
Sodium:
5045
mg
|
Potassium:
5707
mg
|
Fiber:
26
g
|
Sugar:
13
g
|
Vitamin A:
796
IU
|
Vitamin C:
18
mg
|
Calcium:
472
mg
|
Iron:
35
mg
We had sides of wild mushroom bread pudding, twice baked potatoes and green bean casserole. And don't forget the mint sauce for the lamb.
Hope you enjoy!