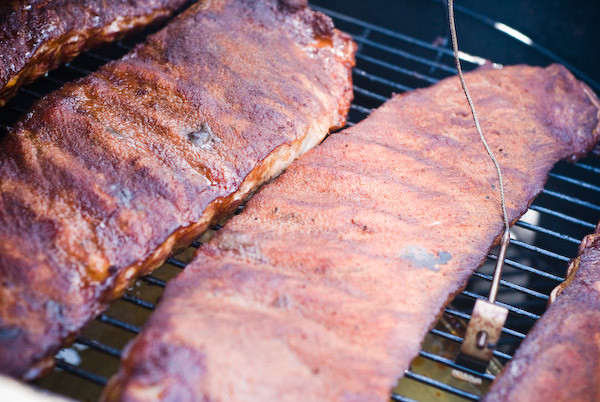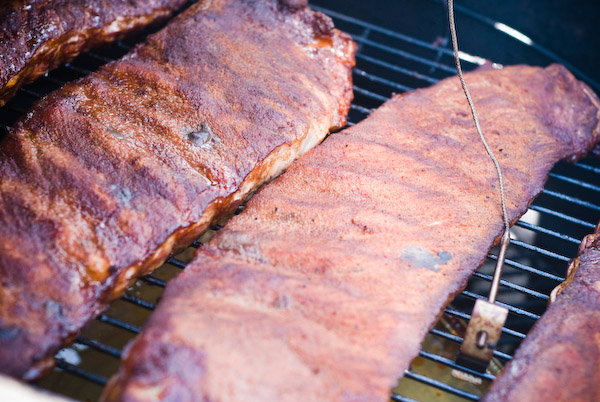 If competition BBQ cooks are being honest, they will most likely tell you that they like to keep their 'Q simple when cooking at home. Those sweet rubs and sauces used in competition are meticulously tuned to make an impression with a single bite, not enjoying a few racks of ribs with friends.  I'm not a competitor and I am by no means an expert, but I am lazy, so I tend to keep it simple as well. I am a sucker for a good "bark", that crust that is only formed when that pork rib rub caramelizes using just the right combination of heat, smoke and time. To create our simple rub, lets first look at the flavor components.
Flavors That Make Up a Great Pork Rib Rub. My rub is rarely ever the same, but each rub has a starting point. A great rub consists of the following categories of flavors:
Salty – Kosher salt to be exact.
Sweet – besides taste, sugars caramelize over time and heat to create that great, dark and crunchy bark we are after.
Savory – savory spices like garlic, paprika, chili powders and cumin add depth to your rubs.
Spicy – to round out the perfect rub flavor profile, we need a little kick to balance out the sweet. Red pepper flakes, fresh ground black pepper and cayenne are the favorites here.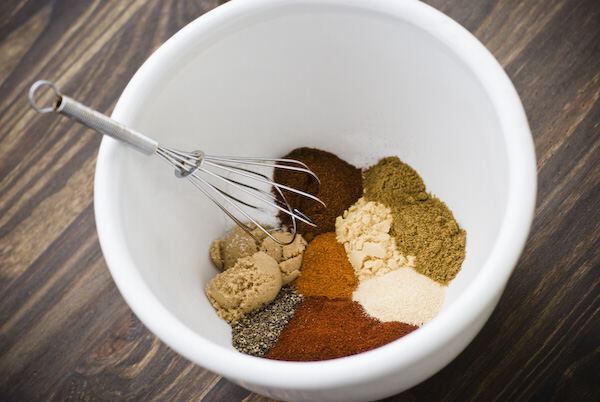 From this flavor profile starting point, I just use whatever is in the cupboard at the time to form my rib rub. Add a little of this, then taste, add a little of that until it is the way I want it for that day. Take it easy on the spicy components because it can go from ok to too hot quickly, especially with the cayenne! Savory is the area where you can really go crazy. Those subtle savory hints are what really sets a rub apart.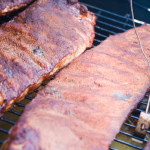 Print Recipe
Rib Rub Recipe
Easy Starter BBQ Rub Recipe
Ingredients
1/4 cup paprika

1/4 cup packed light brown sugar

2 tablespoons Kosher salt

2 teaspoons fresh ground black pepper

1 teaspoon dry mustard

1 teaspoon chili powder

1/2 teaspoon cayenne pepper

1 teaspoon garlic powder

1 teaspoon onion powder
Instructions
Easy Starter BBQ Rub Recipe

Now that we understand a little more about the flavor profile we are after, I'll give you a head start with a very simple pork rib rub recipe. Everyone's tastes are different, so I would encourage you to start with this rub, taste and modify from there in small increments.

Pat, Don't RubApply your rub to the ribs while your smoker is getting up to the right temperature. No need to put the rub on your ribs too far in advance. To apply the rub, sprinkle a good layer all over the meat side of the ribs so that you can no longer see any meat. Use your other hand to gently pat the rub so it sticks to the rack of ribs. Turn the ribs over (after you have removed the membrane) and apply the rest of the rub to the underside of the ribs, patting as you go. No need to apply as much rub to the underside, just a light dusting is good. Smoke your bbq ribs and enjoy!