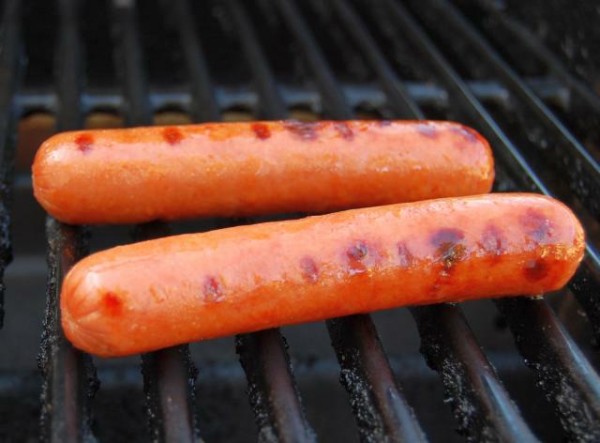 Hot dog are arguably the most popular item grilled in backyards and parks. I lived off of them as a kid and still seem to grill them a few hundred times a year for the kids (well, and me, I still like a good dog). There are many opinions on the origins of the hot dog as we know it today, but most hot dog scholars (I just made that up) credit a German immigrant by the name of Charles Feltman for making it popular. Charles (first name basis) introduced his "sausage rolls" in 1870 on Coney Island. As for the actual term "hot dog", that is said to have originated in 1884 through accusations that German sausage makers were using actual dog meat as the filler for their sausages. What, too much information? Ok, just check out Wiki if you want more useless hot dog information…
Back to business. This hot dog "recipe" is actually just a technique for grilling hot dogs. I had to include that history because, well, theres not much to grilling a perfect hot dog. I read a lot about people boiling and steaming their dogs ahead of time, even in beer. In my personal opinion, it isn't needed and frankly, I would rather use said beer for refreshment at the grill. Seriously though, I find that boiling a hot dog creates a more rubbery skin. As you know, we are big advocates of keeping it simple when grilling. There is really no reason to over-think this one either. Just buy some really good 100% beef hot dogs, some fresh baked buns and grill them with love.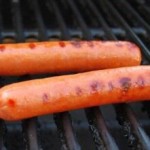 Print Recipe
Hot Dog
Hot dog, the most popular item grilled in backyards and parks. Really not much to cooking them, but what kind of grilling website would ignore them?
Ingredients
10

100% beef (or Kosher) hot dogs

8

Fresh Baked Buns

8 because the buns and dogs never come in matching amounts

mustard

optional

ketchup

optional

pickle relish

optional

onions

optional
Instructions
Heat grill to medium heat.

Place the hot dogs on the grill using a pair of grill tongs.

Ok, instead of attempting the impossible of suggesting times, let me describe the goal we are trying to attain when grilling hot dogs. We are looking to create nice grill marks and a brown skin that has a "snap" when you bite into it. We also don't want to split the hot dogs, hence the lower than high heat.

Given our goal in #3 above, grill and turn (roll) the hot dogs on the grill until you get the perfect doneness all around the dog.

Immediately serve on one of your nice fresh hot dog buns with your favorite fix in's.